DANA AIR Acquires Boeing 737 Aircraft To Boost Operations
Business News
Thursday, February 6th, 2014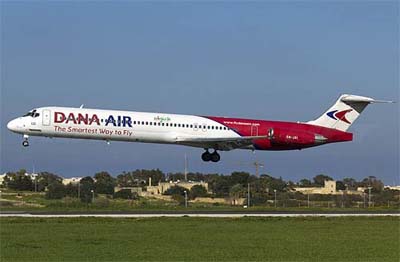 Dana Air on Wednesday added a Boeing 737-500 series aircraft, to boost its fleet and entire operations.
According to Dana Air Relationship Manager, Mr. Samuel Ogbogoro, the latest addition is to further the continuation of its expansion plans,  "with the additional aircraft coming into service, Dana Air will now operate an aircraft fleet comprising of the Boeing MD 83 series and Boeing 737 brand of aircraft."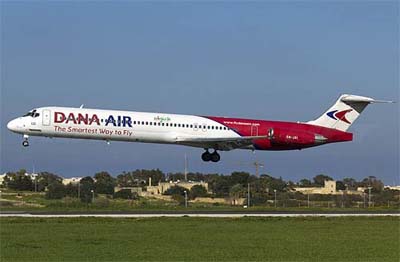 The Boeing 737-500 aircraft which is the first of the Boeing 737 aircraft expected to join the fleet, arrived the Murtala Mohammed International Airport, Lagos on Wednesday, 5 February 2014 after necessary inspection and certification by the Nigeria Civil Aviation Authority's (NCAA) auditors.
Also speaking on the introduction of the B-737 aircraft in Dana Air fleet, the Chief Operating Officer and Accountable Manager of Dana Airlines, Mr. Yvan Drewinsky said the plan to introduce the Boeing 737 fleet of aircraft has always been an integral part of the long term business model of the airline.
"Our plan was to have two B-737 aircraft join our fleet in the last quarter of 2013 but we had to reschedule the delivery date as we were undergoing an operational audit involving the Nigeria Civil Aviation Authority (NCAA) Flight Standard Group (FSG) in conjunction with their foreign partners", said Mr. Drewinsky.
He also noted that the aircraft has undergone significant internal enhancements to ensure that Dana Airlines guests continue to enjoy the unique and outstanding on-board experience they have come to expect from the airline.
Furthermore, Mr. Drewinsky said Dana Airline's plan to re-fleet is a gradual process and the outcome of the operational audit carried out by the NCAA is therefore a welcome development as it has further reinforced that the airline adheres strictly to prescribed standards, having demonstrated satisfactory competence in the operations of the Boeing McDonnell Douglas (MD-83) aircraft fleet.
Short URL: https://www.africanexaminer.com/?p=8036