Domestic Violence: Arik Air Partners Enugu Indigenes In USA
Latest News, News, Uncategorized
Thursday, March 13th, 2014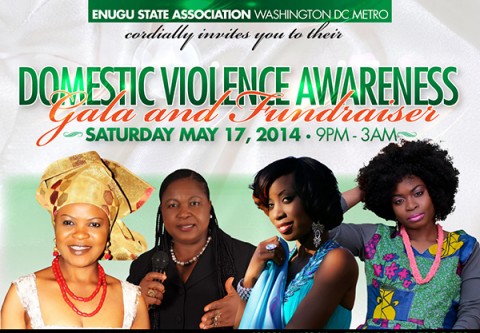 …Offers 2 Free Round Trip Tickets From New York To Lagos
Ignatius Okpara, Enugu
The forthcoming Enugu State Association (ESA), Washington DC branch fundraiser/ Gala night, has received a boost as one of Nigeria's popular Airlines, Arik Air, is partnering with the organisation.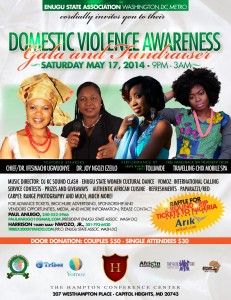 The aim of the fundraiser is to tackle domestic violence against women in Nigeria and more specifically, Enugu State, Nigeria.
According to the organisers, apart from Arik air, some other vibrant and reliable Nigerian owned businesses in the US have also indicated their interests to be part of the ceremony in area of sponsorship.
ESA, comprising of Enugu state indigenes resident in Washington DC, United states of America, in a press statement signed by its public Relations officer, PRO, Mr. Harrison Harry Baba Nwozo (Jr) made available to African Examiner, hinted that the event would take place on May 17, 2014 in Maryland United states.
According to the statement, "the fundraiser/Gala night scheduled for Saturday 17, May 2014, will take place at Hampton Conference centre 207 West Hampton place Capitol Heights, MD 20743, beginning from 9pm- 3am.
The statement reads in parts:
"The Fundraiser Gala night is to increase awareness to the issue of domestic violence and abuse of women in Nigeria and more specifically, Enugu State, Nigeria.
"In addition to raising this awareness, the major   goal of the fundraiser is to provide financial resources that will improve the overall quality of life for the battered, widowed and disenfranchised women that are currently living and utilizing the services of a WACOL ran Woman's shelter currently located in Enugu, Enugu State Nigeria"
"The ESA is partnering with WACOL, (Women's Aid Collective), in carrying out their mission of providing free shelter, job training, dispute resolution, advocacy, free legal and financial aid for battered women and their children.
The PRO, noted that "Most of these local impoverished women and their children have suffered human rights violations and require   intra familial conflict resolutions.
He also disclosed that the Founding Director of the Enugu based Non governmental organisation, (NGO), Women Aid  Collective WACOL, (Dr) Joy Ngozi Ezeilo, will also be in attendance at the Enugu Day fundraiser, and will speak at the event.
Said the ESA spokes man:  "In addition to Arik Air's commitment to sponsor the ESA Domestic Violence Fundraiser, other African owned businesses in the Washington DC area and beyond have stepped up to assist in sponsorship, donations and contributions.
"Most notably, Travelling Chix Mobile spa, a Nigerian owned spa business in the Maryland  metro  area", adding that the Travelling Chix President, Ms. Oby  Nwaogbe, who is a licensed Esthetician, will also be on hand with two  assistants at the ESA event to provide free  back and hand massages to patrons during the ceremony.
Similarly, Vomoz, a low rate international calling service, also ran by a Nigerian, Mr. Alex  Kunle Ayankoya, in Maryland, will also be at the  event running various  contests, games and giving away lots of prizes  and plenty of other items for patrons attending the ESA event .
"This is going to be a very epic night for all who attend, because not only do you have a chance to win a pair of free round trip tickets to Nigeria, but you will be treated to a voluptuous and sumptuous dinner.
The soulful music award winning Nigerian artist Tolumide, he said, will be on hand to entertain guest, just as " you will dance all night to great music from international DJ , KC Soundclash.
Guests according to the ESA PRO, will also enjoy paparazzi and red carpet treatment from Range Photography, hinting that there will be an open bar of assorted drinks and refreshments.
Continuing, "Besides the amazing Dr. Joy Ezeilo, founding Director of WACO, we will have the pleasure of hearing from another extraordinary guest speaker, Chief/Dr. Ifesinachi Ugwuonye, a philanthropist and current Founder and CEO of Sinachi Foundation that provides scholarships for underprivileged girls in Nigeria."
"In addition to everything I just mentioned, the icing on the cake is the fact that our lovely wives, aunties, sisters of Enugu State will be putting on an amazing Enugu Women's Traditional Dance."
The ESA image-maker, added that "Domestic violence can never be eliminated from society unless society refuses to tolerate it. This will require an internal change in the basic nature of society world over, beginning with the recognition of  the worth of every human being as an individual. He. Stated",
Also commenting on the proposed event, president of ESA, Mr. Paul Anuigo,  said "We the members of Enugu State Association WDC, are calling on our dear families, friends,  and well wishers to join us in the fund raising to embark on this great task.
He said "I would like to thank specifically those Enugu State Association members, who are going over and beyond the call of duty, for their support, my friends who are traveling from all over the world to come and support the ESA Domestic Violence project, and most especially our wives, our Enugu women who have taken upon themselves to lend a huge helping hand to make sure this event is a huge success".
"We are doing this for the future and current generations, for our daughters, our sisters, our cousins, and women in general.
"Let them know that there are men out there who care about them and love them and are wholly against all forms of domestic violence. I, Paul Anuigo, am honored to be on the right side of history." the ESA boss, exclaimed.
Meanwhile, the statement further announced that Couples that will attend the occasion are expected to pay the sum of $50, while Single attendees, will cough out $30.
Contact for sponsors, vendors, brochure advertisers, media, etc. are Paul Anuigo, 240-552-5966 , paulaniugo1@gmail.com and Harrison "Harry Baba" Nwozo ,  Jr., 301-793-6430,  tribex2000@yahoo.com
Short URL: https://www.africanexaminer.com/?p=9080