Don't Be Ethnically Biased in Oduah's Armored Car Scandal -Prof. Sagay
Featured, Latest News, News, Uncategorized
Thursday, October 24th, 2013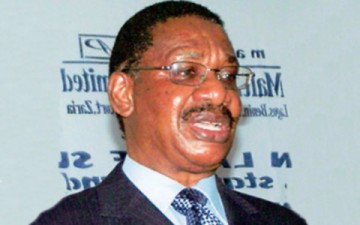 Ruth Bamidele, Lagos
Prof. Itse Sagay, a Lagos based constitutional lawyer, warned on Thursday against ethnic slur in the scandal rocking the embattled Minister of Aviation, Stella Oduah saying Nigerians should speak in one voice against corrupt public officials regardless of their state of origin.
Prof Sagay was speaking in view of some groups that have risen in defence of the Minister claiming she is being persecuted because of her ethnic extraction and those casting aspersions to the minister's ethnicity.
He said such comments are capable of threatening Nigeria's peaceful co-existence as a nation.
Sagay however urged Nigerians to look at issues of corruption with open mind irrespective of ethnic, racial or religious affiliations.
He further condemned the actions of the Minister stating that she betrayed public confidence reposed in her by misusing public funds entrusted in her care.
"I don't see any reason why some people should read tribal or ethnic meanings into this issue. It is a straightforward case of a public officer recklessly and irresponsibly dipping her hands into public funds and spending it without care. The issue of taking sides is becoming a recurring problem in our society."
"Now we have this one. I think if we do not rise above ethnic mentality of saying 'this person comes from my ethnic group and so he can never do any wrong', then of course the future of our harmonious
existence as a country will be jeopardised. Because somebody is from your tribe is not a licence to wreak havoc, that may be acceptable to you but will not be accepted by others" he said.
Short URL: https://www.africanexaminer.com/?p=3494