Don't Make Your Budget Secret, NUJ Tells NASS
Featured, Latest News, News
Monday, December 21st, 2015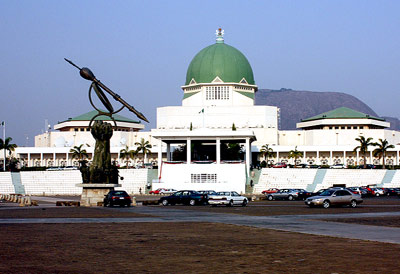 …As Senate Concurs to Self-Regulation by Journalists
Ayodele Afolabi, Abuja

As President Muhammadu Buhari presents the N6 trillion 2016 budget estimates to a joint session of the National Assembly (NASS) on Tuesday, the Nigeria Union of Journalists (NUJ), Sunday urged the Federal Lawmakers to make its own share of the budget open to all Nigerians.
The NUJ National President, Comrade Waheed Odusile who made the call during a courtesy visit to Senate President, Bukola Saraki said openness of NASS budgets to Nigerians would go a long way in enhancing its credibility before the public.
According to him, over the years, Nigerians have always been interested in knowing what and what packages in monetary terms, each member of the NASS is collecting on monthly or yearly basis and what and what projects the Legislature has been executing with the over N100billion budget votes it has been collecting since 1999.
Odusile who also pleaded for collaboration of the National Assembly in passing into law, a bill on self-regulation of Media practice in the country as a way of getting rid of quacks, also admonished NASS to refrain from considering any bill aimed at gagging the press.
He said: "For far too long, we have been hearing negative stories about NASS and we expect NASS to be more open because Nigerians want to know more about your budgets and how they are appropriated.
"We are the only profession that the constitution gives the power to monitor governance and to hold government accountable to the people. We have been trying our best to do that but we have constraints and these are some of the things we said we should bring before the leadership of the National assembly to assist us in moving journalism forward in this country.
"We are not entirely satisfied with the way journalism is practised in the country today not necessarily due to the fault of the practitioners but the enabling environment that is not making it conducive for us to operate the way we should and the way our colleagues elsewhere work.
"It may interest you to know that as we speak, there is no law or we are not aware of any law or legislation that recognizes journalism as a profession in this country and it makes it an open ended thing that anybody that can write or speak English whether good or bad can consider himself to be a journalist and then, start practicing.
"What we are trying to say is that there is no enabling law that strengthens the hands of organizations like the NUJ to actually regulate the practice of quacks because we discovered that because of the open ended nature of entry and exit from journalism, the quacks have found their ways into our profession and this is given us great concern.
"At the leadership level in NUJ we have taken the issue of elimination of quackery very seriously but we discovered that without an enabling law to strengthen our hands we cannot just say Mr A you are a quack and then you will be punished.
"Yes there are quacks everywhere, among lawyers and other professions but once you are caught you know the penalty, it is not like that with us so we want to seek the collaboration of the National Assembly to request for an enabling law that will make journalism a profession, where we can regulate our practice.
"We are not asking for government regulation. We are asking for a law that will empower us to regulate ourselves because without that law, whatever regulation that we make won't have the force of law. That is one of the things we are also asking the National Assembly to do for us.
"We are in the process of putting together a Bill to that effect and before the first quarter next year. All things being equal are partnering with some of our colleagues in the NASS to help us to push the Bill to the NASS and we are appealing that as soon as it gets to the Senate in particular ha the distinguished senators will give it expeditious hearing because we are really desirous of ridding journalism of quacks and unfortunately it is people public in offices like yourselves that often fall foul (victim) of these quacks and we are powerless without this law"
In his response, the Senate President, Bukola Saraki assured the NUJ chairman and his entourage the support of the National Assembly to the proposed bill and also promised that the National Assembly would make open, all its appropriated funds for 2016 to Nigerians as part of its own change agenda anchored on transparency and accountability.
Just as he said that the 8th Senate and by extension, National Assembly, would not come up with any bill that will gag the press or trample on people's right to freedom of information.
His words: "Law to recognize that journalism is a profession is a welcome development but as you said many people have joined and in the process they have done more harm. In my profession, if you are a quack, you will not last but in your profession, if you are a quack, you will last more because there is something you get that makes you to last.
"However, I will not support that government should regulate, I support that there should be a law for self-regulation of the profession by journalists themselves. The earlier you come up with the bill, the better, because we will fast track that kind of bill.
"On the Frivolous petition bill before us but being misinterpreted in some quarters, let me say it clearly that this Senate will not be part of any system or process to guard the media"
Short URL: https://www.africanexaminer.com/?p=28797