Ebola Ravage: Liberian President, Ellen Sirleaf Declares State Of Emergency
African News, Featured, Latest News, News
Thursday, August 7th, 2014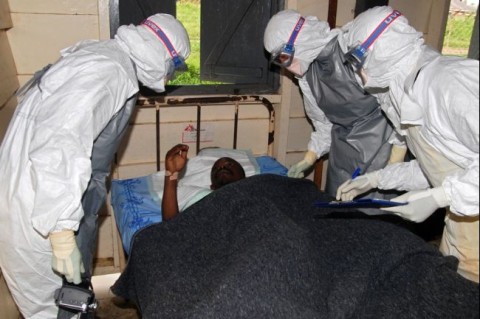 Worried by the torrent rate of casualty and cases of contracted victims of the deadly Ebola Virus Disease (EVD), the Liberian President, Mrs. Ellen Johnson Sirleaf has announced state of emergency in the country.
The President in a nationwide broadcast on Thursday, established that "some civil liberties might have to be suspended".
The latest decision Mrs Sirleaf who just last week directed that all schools in the country be closed down and some affected communities be quarantined might not be unconnected with the alarming EVD death rate in the West African country as well as citizens' decline to heed government order that the disease victims (corpses) be deposited at designated centres, but instead kept dumping them on the road sides, making the spread to get worsen.
There is presently in Monrovia, the Liberian capital, military blockade stopping people from the western regions, including Grand Cape Mount and Bomi, where EVD has been reportedly ravaged and recorded many death and the major business hubs of the country.
Meanwhile, the Liberian head of the National Health Workers Association has complained that the government should have given notice of the declaration, so as to allow people fully prepare for it.
Reports from Liberia indicated that the country's health workers due to fear of being infected by EVD have started fleeing their duty posts in droves, a development culminating into shutting down of many hospitals and clinics.
Consequently, President Sirleaf lamented  that many patients due to latest unfolding events and with diseases prevalent during the rainy season, such as malaria and typhoid would not be attended to and eventually died.
It would be recalled that the first Nigeria EVD casualty, late Patrick Sawyer was a Liberian. Sawyer collapsed at the airport, was rushed to a private hospital, diagonized and treated for the virus, but died within less than a week in Lagos.
One of the nurses who had contact with him was confirmed dead on Wednesday by the Nigerian Minister of Health, Professor Onyebuchi Chukwu. Similarly, the female Doctor who first attended to Sawyer was equally confirmed on Tuesday to be critically ill of the virus.
Since, the Federal and state governments have announced different measures and embarked on many public sensitization to check and control further spread of the virus in the country.
Besides Liberia, other worst hit nations include Guinea, Sierra Leon. The current World Health Organization (WHO) EVD death toll is  930.
The body, health experts and medical workers are currently attending a two – day meeting in Geneva, the Switzerland capital, to discuss the outbreak and viable solution to it.
Short URL: https://www.africanexaminer.com/?p=15814