ECOWAS Parliament Tasks Nigeria on Credible, Peaceful Polls
Featured, Latest News, News, Nigeria 2015 Election
Monday, February 2nd, 2015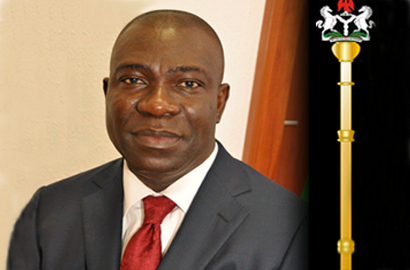 Ayodele Afolabi, Abuja – The Speaker of the ECOWAS Parliament, Ike Ekweremadu has reassured the international community that the forthcoming general elections in Nigeria would be free, fair, and peaceful.
He gave the assurance at the opening of the Extraordinary Session of the Parliament of the ECOWAS Parliament in Abuja on Monday.
Addressing the regional parliament, which also had in attendance diplomats and various international organisations, Senator Ekweremadu said that Nigeria and the ECOWAS sub-region were committed to successful general elections in the country.
He added: "Although the primary thrust of this Extraordinary Session is to discuss the way forward, towards strengthening the parliament to effectively handle the new roles bestowed on it by the Supplementary Act on the Enhancement of the Powers of the ECOWAS Parliament adopted by the 46
th Ordinary Session of the Authority of Heads of State and Government in December 2014, it is important that we address the issue of the forthcoming general elections in Nigeria.
"We have no doubt that Nigeria will be peaceful before, during, and after the elections and that the country and her democracy will come out of the elections stronger. We want to call on the international community to continue to support us, even as we express gratitude to them for the assistances rendered to us so far".
Meanwhile, the resolutions of the Parliament flowed from a Motion moved by the 4
th Deputy Speaker and a Member of the Ghana Country Delegation, Hon. Simon Osei-Mensah pursuant to the Protocol Relating to the Mechanism for Conflict Prevention, Management, Resolution, Peacekeeping and Security, 1999, and its objectives to prevent, manage and resolve internal and inter-state conflicts.
Hon Osei-Mensah said: "The ECOWAS Parliament, aware of the fact that Nigeria is the largest economy in the region and the continent as a whole;
"Aware of the recent security challenges occasioned by the terrorist group, Boko Haram, particularly in the North East of the Country; and convinced of the implications of instability in Federal Republic of Nigeria on the rest of the ECOWAS Community, call on all political parties to avoid inciting and acrimonious campaigns, and focus on issues affecting the core welfare of the people".
The Parliament, while expressing its "support and goodwill for holding of free, fair, and transparent elections, to the government and good people of the Federal Republic of Nigeria", further urged "all parties to gracefully accept the outcome of the elections in the interest of unity, peace, and development of the country and the region".
The sub-regional legislature also called on the international community to massively support all initiatives that will lead to free and peaceful elections.
The Speaker of the Parliament has been directed to forward the Resolution of the Community Parliament to the Government and people of Nigeria.
Short URL: https://www.africanexaminer.com/?p=22074