Edo Pensioner Vows To Commit Suicide Feb 14 If Oshiomhole Fails To Pay His Pension Arrears
Latest News, News, News From The State
Wednesday, February 5th, 2014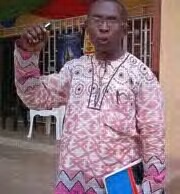 IGNATIUS OKPARA in Benin City
Mr. Denis Amayo, a 57-year old man, has vowed that nothing on earth would stop him from committing suicide on 14 February this year, (Valentine's Day) (14 should Edo state Governor, Adams Oshiomhole, fails to pay his eight-month pension arrears. 
Addressing newsmen Tuesday in Benini city, the Edo state capital, the Igbanke community, in Orhionmwon coucil area of the state born father of four, disclosed how he served the state meritoriously for 35 years in the Ministry of Agriculture and retired in August last year.
He lamented that up till now, he is yet to receive his pension entitlement from the state government.
However, in his hand-written petition to Governor Oshiomhole, Amayo, said he is currently being owed a total of "eight months pension arrears," saying "please Sir, pay me before February 14, 2014. I lost my father, otherwise, I will commit suicide."
The Edo state retired civil servant vowed to sacrifice his life to raise awareness for other pensioners owed many months of unpaid pensions if he is not paid before the Valentine's day dead line given to government.
Short URL: https://www.africanexaminer.com/?p=7999