EFCC Freezes Fayose's Personal Bank Account; Governor Says, Its Illegal, Irresponsible
Featured, Latest News, News
Monday, June 20th, 2016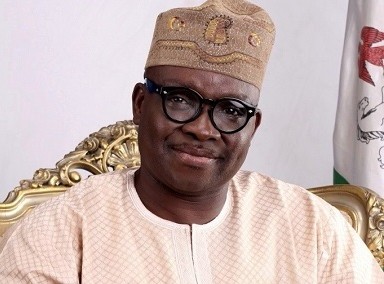 Ayodele Afolabi, Abuja
The Economic and Financial Crimes Commission(EFCC), has frozen the personal account of the Governor of Ekiti State, Mr Ayodele  Fayose  and many of his associates.
The governor's personal account in the Zenith Bank, Ekiti branch, was allegedly frozen on the order of the anti-graft agency, according to Fayose
Fayose, who had earlier issued a counter-cheque to make withdrawal and was rejected by the bank, visited the Bank located at Onigari, GRA in Ado Ekiti, describing the action as criminal and illegal.
Citing Section 308 of the 1999 constitution, Fayose said he enjoys immunity as a sitting governor, urging the federal government to fight corruption within the ambit of the law.
"I gotten wind of the fact that the EFCC had placed restriction order on my personal account and that of my associates. I came here today and I have been able to see it. This action shows that this government has no respect for the constitution because I enjoy immunity under Section 308.
"I support government fighting corruption, but it has to be within the ambit of the law. You can investigate me, it is their right, but they have to wait till 2018, because I will be done by then. They should not be in a hurry because I will personally come to them for investigation
"I have become figure in this country that I don't have anywhere to run to. This rascality of EFCC must stop. If they like, let them investigate the whole world. Is it because they are sitting government now that nobody can ask them question? We will take every legal procedure to get things right.
"I am not leaving this bank until they give my statement of account. They must put it into writing because EFCC has no right under the law to freeze my account.
"They did not communicate me. They want to destabilize the state and we will use all legal means to make them obey the constitution. They can investigate me, but they can't coerce me", he said.
Fayose, who urged President Muhammadu Buhari not to see himself as a saint alleged that the President's wife, Aisha, was allegedly involved in the Jefferson's Halliburton Scandal in United States under ex-President Olusegun Obasanjo's administration.
"Mrs Buhari was accused of wiring $170,000 to Jefferson's account and the man has been convicted. So Buhari and APC should not see themselves as saints." He said.
Short URL: https://www.africanexaminer.com/?p=33679