Eid El Fitr: Amaechi Calls For Oneness, Seeks Allah's Blessings
Latest News, National News, News
Friday, July 17th, 2015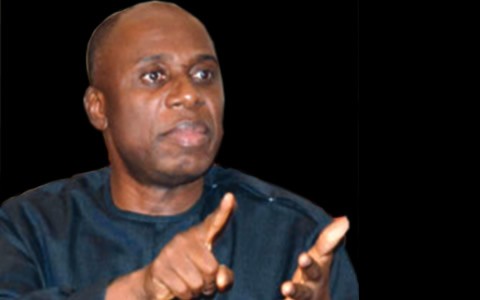 Former Rivers State Governor, Rt. Hon. Chibuike Rotimi Amaechi has urged Nigerians and Muslim faithfuls to join hands in moving the country forward as they pray for peace and unity while celebrating the end of the Ramadan fasting period.
In a statement released by Amaechi's Media Office, signed by David Iyofor, the APC chieftain prayed for Allah's blessings for Nigerians and Nigeria. He enjoined Muslims as they celebrate to reflect on ways to tackle the nation's problems and together cause a positive impact on the peace, unity and growth of the country.
He said, "together we can make this country a better place. If we can think of ways to help build our nation and put away sentiments, then we can make it work."
"As our Muslim brothers celebrate eid el fitr today, we join them in prayers and thanksgiving, believing that Nigeria will be great again if we work and strive together."
Amaechi also urged Nigerians to exercise patience with the new administration, noting that President Muhammadu Buhari is determined and on track to deliver good governance to the nation.
"Our president is determined to make Nigeria better. Let us give him time. Let us also work with him to achieve our desires as one nation."
"This should not just be a time of celebration alone. We should also reflect on the troubles and heartaches of our country. How we can move forward and make things right should be key in our thoughts and prayers."
"I believe Peace can reign again in Nigeria. I believe Nigeria can be great again. Let us come together and work together", Amaechi said.
He wished all Muslims and all Nigerians a happy, love-filled eid el fitr celebration and Allah's blessings.
Short URL: https://www.africanexaminer.com/?p=24454