Enugu LGA Polls 'a Shambolic Exercise', Declares VON DG, Okechukwu
Latest News, News Across Nigeria, News From The State, Politics
Sunday, November 5th, 2017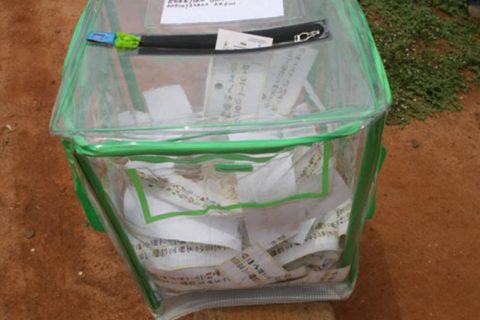 From Ignatius Okpara
ENUGU NIGERIA, (AFRICAN EXAMINER) – A chieftain of the All Progressives Congress (APC) in Enugu state and the Director General of Voice of Nigeria, Mr. Osita Okechukwu, Sunday declared that the shambolic nature of local government council elections in Nigeria, as exhibited on Saturday, November 4, 2017 in the State, remains a paradox to the quest for devolution of powers from the Federal to states tier of government.
Reacting to the polls which was marred by late arrival of electoral materials and other alleged irregularities, at his country home Eke, in Udi local government of the state, Okechukwu, described the election as shameful.
He expressed worry that since "our return to the 4th Republic most state governments had debased democracy by conducting shambolic local government council elections. The same shambolic election took place in Enugu on Saturday.
"Take Enugu State as a case study, APC members in 2016, first objected to appointment of Caretaker Committees to administer the 17 local government councils in the state. Consequently APC headed to court citing breach of Section 7 of the Federal Republic of Nigeria.
"Regrettably the election came after two years and in PDP electoral phobia tradition, the Enugu State Independent Electoral Commission (ENSIEC) disqualified 50 Councillorship and two Council Chairmanship candidates of APC.
"Without any legally valid option we headed to court again and they reversed the disqualification.Then came the Election Day, impunity reared its ugly head again, as result sheets were handed over to PDP leadership and their associates. Is this democracy?"
Asked about the danger posed by such shambolic local government council elections which pervaded all the states governments and all political parties, Mr Okechukwu retorted, "It makes popular participation at the local government level impossible, hence debasing democracy.
"To compound matters all state governments run rubber-Stamp State House of Assemblies. Therefore no oversight functions at the state level." he stated.
"Consequently, the devolution of powers from the Federal to state tier of government seems a paradox. Paradox in the sense that democracy cannot grow or survive without free and fair elections at the local government council level.
"Imagine what could have happened to the opposition if there is State Police, we could have been chased out of the polling precincts. To be honest we patriots have to review our support for the devolution of powers."
Reminded that APC Governors also conduct shambolic local government council elections, Mr. Okechukwu said his concern is about the "growth and survival of democracy in our dear country.
"To me we must join hand to save democracy; for the struggle for free and fair local elections to be effective it must be bi-partisan" he stated.
Short URL: https://www.africanexaminer.com/?p=41391