Exclusive: Acute Kerosene Scarcity Hits Enugu, Litre now Sells For N600, Restaurants Hike Food Price
Exclusive Reports, Featured, Latest News, News Across Nigeria, News From The State
Wednesday, January 18th, 2017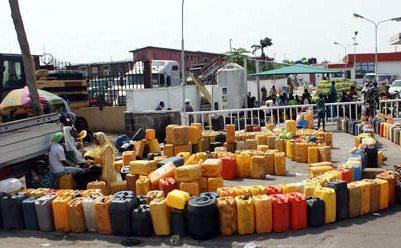 By IGNATIUS OKPARA, Enugu
ENUGU, NIGERIA (AFRICAN EXAMINER) – The present acute scarcity of kerosene being witnessed in parts of Nigeria, has worsened in Enugu state, south- East Nigeria, as a litre of the essential commodity is now sold for 600 naira and above, as against the official pump price of 150.
African Examiner Correspondent who went round parts of the state to monitor the situation, observed that the development has also led to outrageous hike in restaurants and other eatery centres.
It has equally created room for prices of firewood and charcoal to skyrocket in the area,as a bundle with about five Pisces of woods formally sold for 150 and 200 naira within Enugu metropolis is now between 400 and above.
"Due to the high cost of kerosene, the prices of firewood and charcoal have increased as well, as the quantity of firewood we used to buy for N250 now sells for N500″ said a restaurant operator along Abgani road Enugu.
Check by our Correspondent revealed that a plate of food containing two pieces of meat, which before the scarcity was sold for 300 in most restaurants in Enugu, is now 600.
However, the development has forced most low income earners, especially civil servants in the state to resort to eating in restaurants without meat or fish which is about 250 naira.
To aggravate the situation, apart from very few Shylock independent oil marketers, who have the product in their filling stations, non of the major oil dealers, such as Oando, Total, Forte, MRS or Mobil, have sold the commodity since the scarcity began in  January this year.
Some residents of Enugu who craved anonymity with our correspondent while commenting on the issue, appealed to the federal government and management of the Nigeria National petroleum corporation, NNPC, to rise up and tackle the problem as a matter of urgency, saying the situation had compounded their woes.
They said since the scarcity started, "we have resorted to cooking with firewood and charcoal which is also very costly now."
A primary school teacher, who simply identified herself as Ada, said it is quite unfortunate that when one manages to buy food items in this recession era, getting kerosene to cook the food becomes another serious issue."
"You the journalists should help us tell president Muhammadu Buhari, who is also the Minister of Petroleum Resources, that Nigerians, are suffering and dying on daily basis as a result of untold hardship.
"He should do something immediately about this Kerosene problem, because we the poor people cannot afford to be using gas.
"This is terrible, you have foodstuffs, but to cook them becomes a serious problem, just because of high price of kerosene" another respondent who also spoke under condition of anonymity stated.
Short URL: https://www.africanexaminer.com/?p=37585