Exclusive: Buhari, Tambuwal, Atiku's Presidential Ambition Tear APC Apart
Featured, Latest News, Politics
Sunday, November 16th, 2014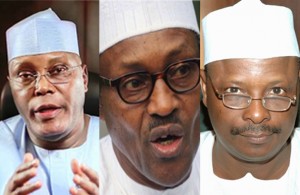 Ayodele Afolabi, Abuja.
This is not the best of time for the All Progressive Congress (APC) as the scheming for its presidential ticket is tearing the party apart.
Before now, the leadership of the party has been toying with the idea of a consensus presidential candidate.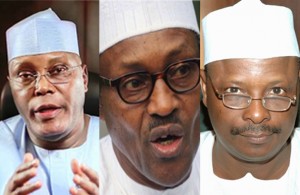 An impeccable source in the party said the idea of a consensus was muted to avoid post convention crisis that may befall the party.
According to the source who did not want his name in print, the entrance of the Speaker of the House of Representatives, Aminu Tambuwal into the race and the refusal of other contestant to accept the option is giving the leadership an headache.
At present, the APC has five Presidential aspirants including former head of state, Muhammadu Buhari, former Vice Presdent Atiku Abubakar, Kano State Governor Rabiu Kwakwanso, Leadership publisher Sam Nda Isaiah and Tambuwal.
The source said that both Atiku and Buhari camps believe that they cannot step down for any other candidate which they claim have no national appeal like them.
"What Atiku is clamouring for is a level playing field at the convention so that the best candidate can emerge.
"Some Governors of the party felt it is an insult to imagine that Buhari could step down for any other aspirants especially Tambuwal who recently decamp to the party.
"They (Governors) have vowed to resist any attempt to impose Tambuwal on the party".
The Buhari camp felt that it is either presidential ticket or nothing.
According to our source, Buhari loyalists believe that his former party, the Congress for Progressive Change, is a major pillar of APC and his presidential ambition must not be toyed with.
"They believe Buhari is the only contender that can give President Jonathan a good run for his money in 2015 while other aspirants will just be a mere walkover for him"
With the collapse of the consensus option, the APC leaders are said to be having sleepless night on how to conduct its primary without creating bitterness and protest votes for the ruling PDP in the coming election.
Baring any last minute change of plans, our correspondent reliably gathered that the APC governors are rooting for Buhari as the party's presidential candidate as they believe the former head of state is the only one that can match the PDP's candidate, President Goddluck Jonathan's national spread.
Short URL: https://www.africanexaminer.com/?p=19643