EXCLUSIVE: How Edwin Clark stampeded Ekwueme, Others To Endorse Jonathan
Featured, Latest News, Nigeria 2015 Election
Thursday, January 22nd, 2015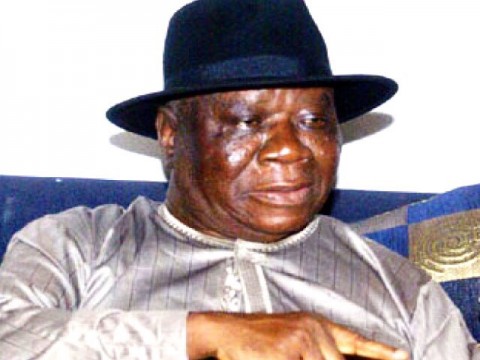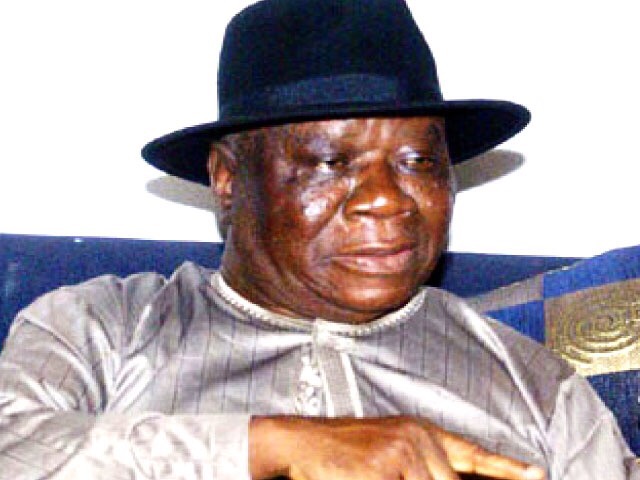 FROM IGNATIUS OKPARA, Enugu – Facts have emerged on how chief Edwin Clark, stampeded the Southern Nigeria Peoples Assembly (SNPA) to suddenly endorse president Goodluck Jonathan,s 2nd term ambition.
African Examiner reports that the organisation, made up of mostly political, religious and Traditional rulers, as well as elites from Southern Nigeria,held its 5th general Conference in Enugu last Tuesday, 20th, 2015.
The body, had in a communique signed by its chairman, and ex- Vice president, Dr. Alex Ekwueme, co- chairman, and leader of South- South region, Edwin Clerk, and its co- chairman for South West zone, Archbishop Ayo Ladigbolu, announced the endorsement of Jonathan,s 2nd term aspiration in 2015.
However, our Correspondent reliably gathered from a source that attended the meeting that Jonathan,s endorsement, was not originally part of the agenda of the conference, but was smuggled into the programme by chief Clark.
The action almost turned the conference into a rowdy session, when its was pronounced by Clerk, said the source.
"The endorsement of president Jonathan for a second term in office, was not part of the agenda of the meeting, but suddenly,chief Edwin Clark, from Delta state, introduced it with sentiments.
It was further gathered that the Delta state born Octogenarian politician, and president Jonathan,s political God father, had hinged his argument on the fact that the Northern elders and elites, under the platform of Arewa Consultative Forum (ACF) have endorsed the All Progressive Congress, APC candidate, Gen. Mohammadu Buhari.
Clerk according to the source, after much argument, and weeping of sentiments, succeeded in convincing most of the delegates, and chairman of the organization, on the need to support president Jonatha,s 2015 dream.
Although, apart from the verbal words of conviction, our Correspondent reliably learnt that all the over 200 delegates left their hotel rooms very happy and smiling, as their action allegedly yielded a wonderful fruit of thank you for a job well done, from the presidency.
Meanwhile, the SNPA, endorsement of Jonathan, has continued to attract mixed reactions in the south east zone.
A member of one of the opposition parties, who craved anonymity, told African Examiner in Enugu that it is unfortunate that an elder statesman, like former Vice president Ekwueme, could descend so low to be part of such action.
He asked? "who is deceiving who? Only recently, same Ekwueme, granted interview to the Sun newspaper, expressing displeasure on president Jonathan's administration.
He even posited that the president may not make it in the south east in 2015, among other comments.
"Same person is now endorsing the president, it is quite unfortunate".
Also reacting to the development, a chieftain of United peoples party, UPP in Imo state, chief Ibe Duru, said "it is not surprising, because the so called SNPA, is an affiliate body of the ruling peoples Democratic party PDP, adding that only time will tell where Nigeria is going,because one does not win election thru massive endorsement after all.
Short URL: https://www.africanexaminer.com/?p=21817