False Asset Declaration Trial: Saraki Pleads Not Guilty
Featured, Latest News, News
Tuesday, September 22nd, 2015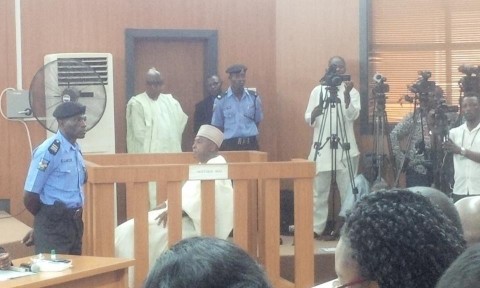 *Next Hearing For October 21
By Ganiyu Nasirudeen
BALTIMORE, MD (AFRICAN EXAMINER – Senate President, Bukola Saraki made good his Monday's pledge by appearing Tuesday morning, before the Code of Conduct Bureau Tribunal, after several failed attempts to halt being investigated by the judicial body.
Saraki who arrived the premises of the Tribunal in Abuja, around 9.30am in convoy of about 50 Senators, some House of Representatives members and aides, was ushered into the accused box, when the Tribunal Chairman, Justice Danladi Umar came into the Chambers around 10.30am.
The Senate's President who defended his initial decline to appear before the Tribunal, explained in his preamble, that his action did not suggest he lacked respect for the court, but were efforts to exercise and exhaust his right under the constitution of the country.   
Saraki pleaded not guilty to the 13 count charges of false assets declaration and corruption, pressed against him, when they were read in the court.  
The mass media, especially the electronics, were stopped from broadcasting live proceedings, of the proceedings when the trial began.
However, the Tribunal had a nasty experience with Saraki's supporters, who besieged it, who were persistently unruly, threw diatribes, forcing the prosecution's Counsel and representative of the Attorney General of the Federation, Mr. Rotimi Jacobs (SAN), to plead the Tribunal Chairman, to order the accused Counsel, Mr. Joseph Daodu make an undertaking on behalf of his client and his supporters, of good conduct during the investigation session.
Mr. Jacobs argued that the Tribunal was not a political ground, but a serious session investigating issues of national interest, therefore Saraki and his political supporters must not be allowed to ridicule the Court.
The Chairman did not rule on the prayer, yet, directed Mr. Daodu to look into the matter and work on it.
Tuesday's charged session lasted for about two hours, but ended with adjournment by the Tribunal's Chairman, Justice Umar to Wednesday, October 21, 2015.     
Short URL: https://www.africanexaminer.com/?p=25916