Fashola Advocates Enabling Environment For Private Sector Participation In Transport Sector
Featured, Latest News, News
Friday, November 15th, 2013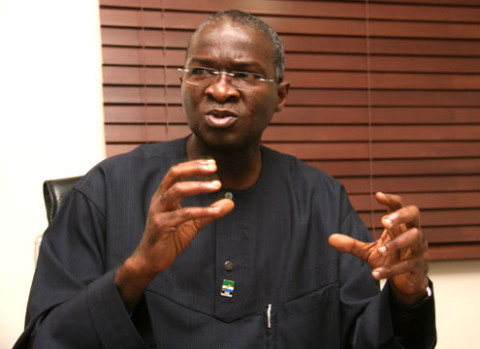 Kayode Adelowokan, Lagos
Lagos State Governor, Mr. Babatunde Fashola (SAN), Thursday flagged off a three-day meeting of the National Council on Transport in Lagos advocating the creation of an enabling environment in the sector to attract private capital investment.
Addressing the stakeholders in the nation's transport Sector, including the Minister of Transport, Senator Idris Umar, Commissioners for Transport or their representatives from across the country at the Civic Centre venue of the meeting, Governor Fashola said care must be taken while regulating the sector to ensure that the environment remained attractive to private investors.
He told the stakeholders, "Let me lend my voice to the necessity for regulation in the transport sub-sector of our economy but, in doing so, may I also advise that the legislation must be such that it promotes participation of private capital and Private Sector scheme in the organization and operations of public transportation"
"This is the way it must be if the objective of using transportation as catalyst for economic growth will be met. We must create an environment that enable private sector operators to find public transportation attractive as a business in which they can put their resources, in which they can invest their money, their time and in which they can make heavy returns", the Governor said.
He, however, added that regulation by the policy makers must ensure that fair returns would not necessarily translate to excessive profiteering adding that Lagos State was already applying the models through the use of the Lagos Metropolitan Area Transport Authority (LAMATA) as regulators on road transportation and Lagos Water Transport Authority (LASTWA) as regulators for water transportation.
According to the Governor, "The capacity to use public transportation to create jobs, to create economic growth, to improve the Gross Domestic Product of the component states of the Federal Republic of Nigeria derives from how encouraged the Private Sector is to participate in that sector".
"It is from there we can really have Small, Medium and those other types of businesses that the owners grow gradually until they become big in their various sector", the Governor said citing such transport companies as Ekenedili Chukwu, Young Shall Grow and others who, according to him, started with one bus and have become big in their various sectors.
Calling for sanction for illegal operators of public transportation, Governor Fashola said they represent major debilitating factor to the growth of transportation in the country, adding, "if people play by the rules, they register, they get state carriage, get licenses, and they pay taxes".
"We owe a duty to protect those who invest and commit their assets and who play by the rules from those who violate the rules. There are a lot of those agencies mostly paramilitary agencies who operate bus transport system without control. This is the time to put a stop to it. If they have cooperatives that intend to participate in the transportation sector, they must do so in accordance with the laid down rules and regulation in the territory in which they wish to do so", the Governor said.
Pointing out that key sectors such as Education, Health and others depend mostly on the transportation sector, Governor Fashola declared, "With a reliable and efficient transport system, efficiency will be impacted and we will have less wastage. We will have more efficiency if vehicles don't spend four days to do a 12-hour journey, if the road networks are reliable and complemented by water, rail transports systems".
Short URL: https://www.africanexaminer.com/?p=4864