Fashola Blames FG Over Traffic Nuisance In Apapa
Featured, Latest News
Sunday, July 13th, 2014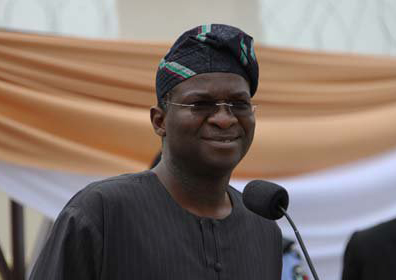 Governor Babatunde Fashola of Lagos State has blamed the Federal Government for the traffic nuisance in Apapa area of Lagos and the consequence of shutting down of businesses in the area.
The governor, who visited Apapa for the second time in two weeks on Sunday said people are living traumatic life in Apapa axis occasioned by traffic snarls.
According to him, the entire roads have collapsed due to the movement of heavy duty vehicles on the road, adding that businesses were shutting down in Apapa, as "people are living a very traumatic life. The entire roads have collapsed due to the movement of heavy tonnage. We have managed to create some order on the road but the entrance to the port is where the problem lies.
"So, it is lack of management on the part of those managing the port. It is obvious where the problem is emanating from. 90 percent of the fuels used in this country are distributed through this place."
Fashola wondered why everything had falling into pieces under this Federal Government, saying that everything about the country is falling into pieces as Apapa had not been spared.
"The port cannot be managed. The fuel distribution cannot be managed without causing so much pain. The roads have been destroyed. People are sleeping on the road because the central government cannot effectively manage the distribution of fuel."
Fashola lamented further that "people are taking their bath and defecating in the open drain. All the drains have turned to refuse dumps. Simply because the Federal Government wants to give its citizens fuel and run a port."
"We have been distributing fuel in this country for over 50 years. And it was not like this. This shows lack of competence on the part of the central government. And it is a shame. We can only try to manage some of the consequence of this mismanagement," he added.
The governor proffered solution to the lingering problem in Apapa, saying that the federal government must change its policies in Apapa.
He said the only way to change things in Apapa was for the people to vote out the government of President Goodluck Jonathan next year.
Short URL: https://www.africanexaminer.com/?p=14300