Fashola Orders Synagogue Church Staff To Vacate Site For Rescue Workers
Featured, Latest News
Sunday, September 14th, 2014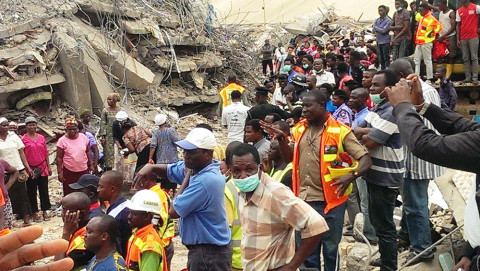 Governor Babatunde Fashola of Lagos State has ordered staff of the Synagogue of All Nation to vacate the site of the 6-storey collapsed building to allow emergency rescue workers to do their jobs.
Fashola who visited the site of the collapsed building expressed sadness at the loss of lives even as he described the incident as very unfortunate.
While commiserating with the General Overseer of the Church, Prophet Temitope Joshua, who came to meet him at the site of the collapsed structure, Governor Fashola, however, directed that the staff of the Church should give way for the rescue workers to be able to carry out the job of evacuating the debris and rescuing possible victims still trapped under the collapsed building.
The Governor, who was received at the site by the Commissioner for Physical Planning and Urban Development, Town Planner Olutoyin Ayinde, told Prophet Joshua, "What you need to understand now is that this place is now an accident scene and so all your staff must leave this place. We need to take control of this place and let people who are trained to do this job to do so.
"We understand that this is an unfortunate incident, we understand their sense of sympathy and compassion. But let them allow those who are trained to do the job take over and do the job; that is their training and it won't make sense if they are getting in each other's way," he said.
Governor Fashola said after the emergency workers have finished their work, it would be easier for any staff of the Church, whether an engineer or a medical personnel, whom the General Overseer wishes to be on the site with the emergency workers for the purpose of taking records, to join them.
Urging the General Overseer to ask all his staff to step down from the accident site until rescue work is finished, Governor Fashola added, "When we finish, if you have any person, whether an engineer or a medical person you wants to be on the site with them, working with them to know what they are taking there, then it is easier; they can report to you and then report to me. But we can't continue rescue operations with your men hanging around here".
Meanwhile in his reaction  to the incident on Saturday, Prophet TB Joshua alleged that the incident happened due to chemical attack. He explained that the church CCTV Camera picked a strange aircraft that hovered round the church 4 times before the building caved in.
The edifice collapsed last Friday afternoon, leaving several people dead and about 100 injured, according to the officials of the National Emergency Management Agency (NEMA).
Short URL: https://www.africanexaminer.com/?p=17430