Fashola Visits Burnt Balogun Market, Pledges Assistance For Affected Traders
Featured, News, Nigeria 2015 Election
Tuesday, January 13th, 2015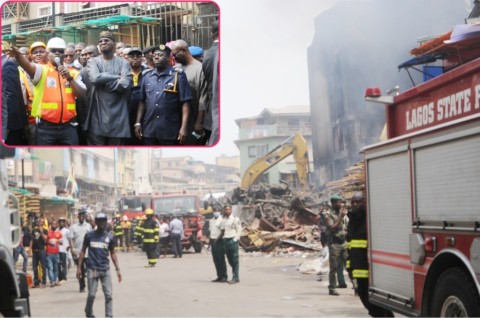 A large crowd welcomes Governor Babatunde Fashola of Lagos State to the burnt Balogun Market on Tuesday even as the governor pledged to provide succour to traders who lost their wares so that they can get back their lost businesses.
Four high rising buildings comprising hundreds of shops were burnt in the inferno on Monday with traders counting their loss in multi millions of naira.
According to Fashola, government would assist traders who lost their shops and wares to the fire incident at Balogun Market to get back to business.
The governor stated that government would work with officials of the market to verify losses as relief would be provided to victims as soon as enumeration of traders had been completed.
"I sympathise with you on this incident, especially you women trying to earn a living and keep body and soul together. This is indeed a very pathetic incident. Be assured that our government will stand with you at this difficult period and we will help you get back on your business and that is the reason I have come with the Commissioner for Special Duties.
"I am working with the Iya Oloja and other market women to authenticate and verify all legitimate losses to the incident and this will apply to all affected in all the plazas. Once everyone has been identified, we will do our best to put you back to business and that will include replacing as many destroyed properties and buildings as possible," the governor stated.
Fashola said there was the need for traders to embrace insurance for their businesses, saying that insurance, apart from providing compensation for losses would also help to reduce risks associate with business.
The governor urged traders and residents to always take precautions against fires as the step would help avert losses to fire disasters. "I want to use this opportunity to appeal to all Lagosians that this is the dry season. We have two seasons in our state-the rainy season and the dry season.
"The rainy season is where you have the risk of flooding, we have successfully contained that. We are now in the dry season, where we have the risk of fire. We must be interested in our own safety and security. I appeal to you to stop storing inflammable materials in your homes and business places.
"Residents should cultivate the habit of turning off their electrical appliances not in use. It is the harmattan period and the harmattan wind makes fires easy to start and difficult to contain. As at yesterday, we were dealing with 18 fires. That should tell anyone that a lot more precautions are needed this season," he said.
The Director, Lagos State Fire Service, Mr Rasaq Fadipe, said the cause of the fire had not been ascertained but pointed out an electrical fault around the market was suspected.
Short URL: https://www.africanexaminer.com/?p=21603