Flood Sacks Medicine Dealers in Aba Market, Destroys Drugs Worth N180 Million
Enugu, Latest News, News
Thursday, September 19th, 2013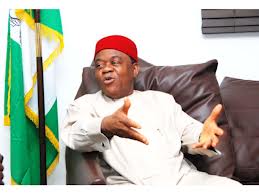 By Ignatius Okpara, Enugu
Heavy floods that submerged the Ariaria international market in Aba, the commercial city of Abia state on thursday has sacked virtually all the Patent medicine dealers in the area.
Our Correspondent gathered that the devastating flood destroyed drugs valued over 180m with the Ochendo Health and Jesus is the overall zones mostly hit.
A source at the market told African Examiner that the flood was the fall out of a heavy down pour which lasted more than five hours in the  city.
The mostly affected dealers have been rearranging their stock, trying to see what could be done, while others were erecting barriers to stop water from entering their shops.
Addressing newsmen on the unfortunate incident, Chairman of Ochendo Health Zone, Mr. Longinus Ejobi, described the disaster as the heaviest since they started experiencing flooding in the  Market.
Hear him: " Some years back, we have been suffering so much during the rainy season. If it rains, we don't even expect to see any customer because everywhere will be flooded.
"Early this year, we notified authorities of ASMATA about our plans to reconstruct our line by ourselves just to make sure that we check flooding. We do not know that even after our efforts, this kind of thing will still happen.
" This is the heaviest lost and damage to our goods since we started recording flood in this market."
Also speaking, a patent medicine dealer who gave his name as Sam alleged that since the construction of lockup shops at the land opposite the market, the situation has become worst as the water that originally runs into the land, now settles at the market with its blocked drainages.
He however, called on the state government to assist the traders to check flooding in the market, lamenting that their customers no longer access the area because of the ugly development..
Another dealer lamented that he lost over N2million to the flood.
"The drugs were bought on credit. I came back very late from market last Saturday. I left the drugs in their cartons, hoping to arrange them on Monday. If I had known that the  rain will do more harm to me this way, I would have taken the drugs to my house to offload them today. But look at the damage it has done to my goods.
"Both the drugs left on my counter and the ones inside the carton were all damaged. The loss is countless.
" Let government intervene and help us avoid this kind of misfortune.
"It is too much on us and we don't know what will happen if this kind of rain falls again." he said
Short URL: https://www.africanexaminer.com/?p=1389