Former Enugu Governors Life Pension Bill Shows PDP's Selfishness To Plight Of Citizens – APC
Enugu, Featured, Latest News, News Across Nigeria, News From The State
Monday, March 22nd, 2021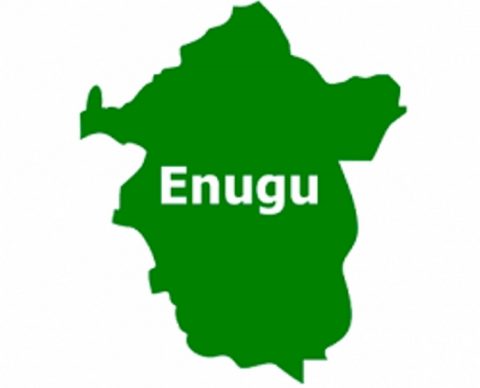 ……. Woos Electorate to Join Party
(AFRICAN EXAMINER) – The All progressive Congress APC Enugu state chapter, has joined other Stakeholders in condemning the recent controversial bill proposing life pension for ex- governors of the state and their deputies, being championed by the state House of Assembly.
The Executive bill which had gone through first reading in the House of Assembly before it was stepped down by the lawmakers, following public outcry, showed that the ruling people Democratic party PDP in the state is insensitive to the plight of the suffering masses
Caretaker Committee Chairman of APC in Enugu state, Dr. Ben Nwoye, stated this yesterday while receiving princess Adaeze Nwoye, Udeji, daughter of late Monarch of Emudo Nenwe Community, in her Nenwe ward 3 in Aninri Council area of the state into the party
The Chairman called on the electorate in the locality and state at large to embrace the Nigeria's ruling party, noting that with such anti human proposed bill, it has become clear and obvious that PDP as a political party, does not wish the poor suffering citizens of the state well, or have their interest at heart
You can agree with me that slowly, and steadily, the Enugu people are rejecting the PDP, this bill has shown that the party has no shame" Nwoye declared
While urging the electorate and progressive minds in the state to join the APC enmass in its ongoing registration/ revalidation exercise, Nwoye, said the party is committed in addressing the political and economic challenges presently facing the nation.
He salute the courage of Princess Udeji, for deeming it fit to identify with the APC, describing her action as a wise political decision.
"On behalf of the National Caretaker Committee Chairman of our great party, I wish to present to you this broom symbol of our party
The Chairman, noted that Aninri Council area has top Chieftains if the party such as former Military of Gombe state, Group Captain Joe Orji, a member of the Revenue Mobilization and Fiscal Commission, Mrs Maria Aniobi, among other
In her brief remark, the new entrant said she joined APC with a view to encouraging women full participation in the party, so that the women folk can rightly get their fair share in the party.
She however, called on women to join APC enmass in the state, stressing that with total commitment, they party will get to its desired destination in the state.
It reports that a socio political group, the Save Enugu Group (SEG) had issued a 21-day ultimatum to the lawmakers to kill the controversial bill or face the wrath of the citizens, before it was eventually stepped down last week.
Short URL: https://www.africanexaminer.com/?p=61015