Fresh Deadly Explosion Rocks Izmir City In Turkey
Featured, Latest News, World News
Thursday, January 5th, 2017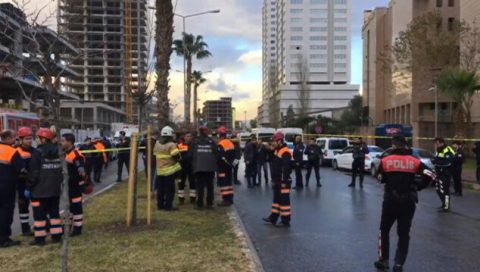 BALTIMORE, MD (AFRICAN EXAMINER) – Barely a week after a bloody explosion which rocked a nightclub and killed 39 people in Turkey, another eruption has occurred near the courthouse in the city of Izmir, of the western part of the country.
Images of the explosion on social media showed two cars on fire with many people reportedly injured. Other images showed what looked like the body of a man carrying a gun, suspected to be the attacker. He was however killed by police.
Meanwhile, Turkey security operatives have arrested many suspects of Uighur ethnicity in connection with the last week deadly nightclub attack.
Local reports indicated that those detained were believed to have come from China's Xinjiang region with ties to the attacker.
Amid the raging tension, Deputy PM Veysi Kaynak has informed that Turkish's security officials were closing in on the suspected gunman, who is predicted to be of Uighur ethnic extraction.
Authorities have also reportedly beefed up security at Turkey's land borders and airports to prevent the attacker from fleeing the country.
Turkish media have run images of a suspect, but the police have not given any official details.
Short URL: https://www.africanexaminer.com/?p=37269