G3 Telecom Offers Quality and Lowest Call Rates To Nigeria
Business News, Latest News
Friday, January 31st, 2014
The African Examiner
Many Nigerians living in USA and Canada go extra miles to shop for quality phone cards with lots of minutes to call their businesses, families and friends back home. And unfortunately, many phone cards out there are just a big rip-off.
Many problems associated with these phone cards include: poor call quality, drop calls, high call rates, your minutes vanish after your first call, some even charge connection fees, and lots of other issues.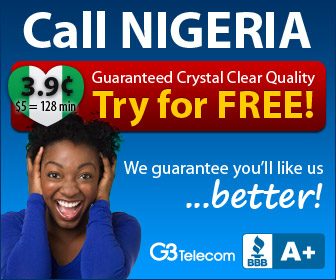 However, G3 Telecom stands out from the pack.  They have good services tailor for Nigerians who reside in North America. They offer very cheap rates to Nigeria, their calls are clear and they have friendly staff that will walk you through their services.
Benefits of using their services are: 3.9¢ to call Nigeria, No contract, No expiration, PINless dialing, No hidden or extra fees, Guaranteed clear quality, ability to use from your home, office or cell and you can monitor your call details online.  Right now they're offering a promotional rate of 3.9 cents per minute to anywhere in Nigeria. That means $5 will give you 128 minutes and $10 gives 256 minutes. If you start your account with $20 you will get additional 46 minutes to call Nigeria for free.
The way the service works is you pay upfront any amount (minimum $5) you'd like to use and register up to 3 phone numbers you'll be calling from. Then to call Nigeria (or anywhere else in the world) you simply dial a local access number from any of the phones you registered (it could even be a cell phone) and then enter the long distance number you wish to dial.  And you don't have to switch your current phone provider.
Many, who have joined and signed up, including this writer, have continued to enjoy good quality services from this phone company. They are so confident of their service that they offer you to try it for free, just for you to test it, before you signed up with no strings attached.
And the icing on the cake is that G3 Telecom is a reputable and credible company that has been in business for over 10 years. They even have an A+ rating with the Better Business Bureau.
Why don't you join now @ http://www.g3telecom.com/long-distance/call-nigeria-africanexaminer or call 1-855-681-4343 and mention you read about them on African Examiner.
Short URL: https://www.africanexaminer.com/?p=7877