Gov Orji Responds Critics On Arochukwu-Ohafia Federal Road
Latest News, News From The State
Saturday, March 1st, 2014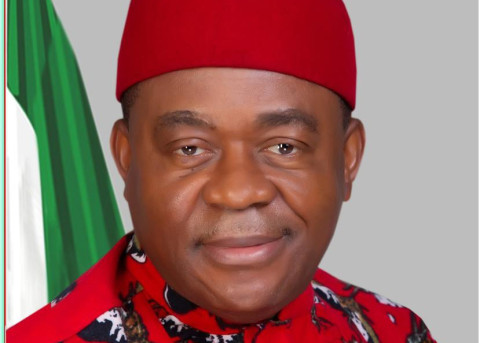 Abia state governor, chief Theodore Orji says contract for the Arochukwu- Ohafia federal road has been awarded while work has commenced on the road.
Governor Orji who disclosed this while briefing newsmen in his office was reacting to a statement credited to one Onwuka Ukwa of the All Progressives Grand Alliance (APGA) in which he alleged that the governor said that he will not do the said road because it was a federal government road.
The governor said that the allegation by Ukwa whom he described as inconsequential was not true but was mischievously made up by him to make himself appear relevant."People are insincere in government, they want to start blackmailing people", he said.
He further stated that Onwuka does not come home and cannot claim to know what is happening at home, pointing out that he is speaking from a parochial point of view.
The number one citizen of Abia state who said Ukwa was a liability to APGA revealed that his government had already spent N400 million on the federal road as palliative through New Idea Construction Company before the federal government awarded the contract.
According to him, the Abia state government would do all the roads in the state if it had the resources since it was still Abians that would use the roads whether they were federal or state roads.
He however disclosed that his government was currently working on the Ndioji Abam-Ndiokereke road also in Arochukwu and has gone very far on the long stretch of road designed to give the people a sense of belonging and ease their difficulty.
He stated that he has severally visited the federal contractor handling the Arochukwu-Ohafia federal road to ensure that he keeps faith with the road. Chief Orji regretted that Mr. Onwuka Ukwa was twisting facts and trying to bring Abia state and the federal government in confrontation.
He recalled that that the Ohafia –Arochukwu road has been in bad shape over the years."The road has been like that even during the time of Obasanjo and I have consistently lamented on the road", he added.
Short URL: https://www.africanexaminer.com/?p=8708