Government Won't Close Borders with Neighbors Over Ebola -FG
Featured, Latest News
Saturday, August 2nd, 2014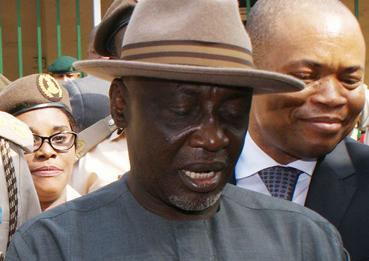 The federal government has ruled out closure of its borders with other African neighbors saying such action is an extreme situation that has its own wide range of consequences.
Minister of Interior, Comrade Abba Moro made this known in an interview with some journalists at the weekend in Abuja.
Mr. Moro said already, there is a presidential committee in which he is a member, which has been working round the clock to ensure that the disease does not spread in Nigeria.
He said, "isolated incidence of the death of Patrick Sawyer on account of Ebola is not sufficient for this country to close its borders."
Closure of borders is an extreme situation that has its own wide range consequences and so unless it becomes absolutely necessary, we don't intend to close our borders as long as information comes to us indicates that Nigerian Medical workers and Nigerian Immigration Service and all other Health officials are striving to contend the situation, no need to close our borders."
The minister described as unfortunate disease that "we felt would never be in Nigeria, has come to Nigeria, but I think the good news is that since the death of Patrick Sawyer from Liberia, on the account of Ebola virus, no other reported case has occurred and we are praying very fervently that by the expiration of the period of incubation which has been put between one week and three weeks and no such cases will be heard.
"I want to also say that in line with each proactive attitude to issues of emergencies like this, the Federal Government have put in place a presidential committee to address the issue of Ebola occurrence in Nigeria.
"We have been having meetings frequently to update ourselves on decisions that have been taken and one of the decision that was taken in the committee is that screening centres, at our various Ports of entry including our land entry Ports, and this ports authority, Health officials, have been drafted to some of our ports of entry and the Nigerian Immigration Service have directed its officers at the borders to ensure proper screening in alliance with Port authority and health officials, because as you are all aware we are not sufficiently equipped to carry out screening but working in agreement with health officials and Port authority, hopefully we will be able to come to terms with the incidence of Ebola.
While reacting to a question whether the country is contemplating the introduction of certificate to travellers, the minister said Nigeria as a global player in some circumstances would not be able to take action in a unilateral action by introducing certification, adding that "if you must introduce certification, it means that you must know what you are out for, you must know that yes if you apply this, the person will be free of this, so I think that the issue of certification will only come when everything about Ebola have been examined, vaccines identified for its eradication, cures identified for them, only on such circumstances even if am not a health expert, you can now say that lets acquire certification."
Short URL: https://www.africanexaminer.com/?p=15522