Governor Orji Blasts APGA Guber Aspirant Over False Information
Latest News, News, News From The State, Politics
Tuesday, August 12th, 2014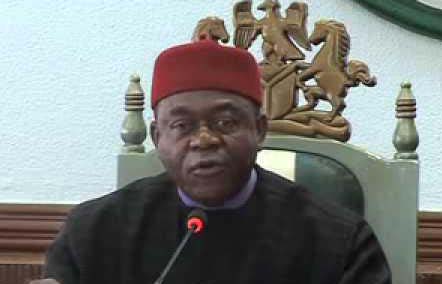 Ignatius Okpara, Umuahia
Governor Theodore Ahamefula Orji, of Abia state, on Monday tongue lashed the All Progressives Grand Alliance (APGA) governorship aspirant in the state, Chief Chikwe Udensi, over his recent media comments that civil servants in the state were presently being owed five months backlog salary arrears.
Orji, who is also the chairman of the southeast governor's forum, had in his reaction, described the remarks as malicious and untenable allegation.
He therefore, cautioned politicians in the state and elsewhere to always mind their utterances and stop pull-him down syndrome in the name of politics.
The Governor, who reacted via a press statement issued and signed by his Chief Press Secretary, CPS Charles Ajunwa, said the allegation was not only mischievous but spurious, and a hatchet job by a political neophyte who thinks the only way to achieve cheap popularity was to attack the government in power.
According to Orji, the allegation, which only existed in the imagination of Udensi, was only a political propaganda aimed at drawing unnecessary attention.
He also debunked the APGA gubernatorial candidate's claims that the state receives over N5 billion a month from the statutory federation account, stressing that statistics about what accrues to any state is published in the media by the Federal Ministry of Finance, and cannot be denied.
The statement read in parts: "The unguarded comments by Chikwe Udensi are simply advertising his ignorance about governance because none of the lies he vomited has any semblance of truth.
" We are not surprised, however, because falsehood has been his trade mark.
"Ordinarily, government would not have bothered to dignify his ignorance by responding to his spurious allegations, but for the benefit of doubt and to save the unsuspecting public from feeding on tissues of lies".
"Abia's allocation from the federation accounts has always fluctuated between N3 billion and N4.5 billion, and not N5 billion as alleged by the ignorant politician who should have known better considering his self-acclaimed position".
The Abia state chief executive also noted that despite the meager resources available to the state, civil servants had continued to enjoy the new minimum wage even when other states were yet to implement it.
He equally lashed out at Udensi, for alleging that Aba had collapsed under Orji's watch, arguing "this administration had committed more funds than any previous government for the infrastructural development of Aba.
"It is on record today that Aba which had a lot of deteriorated infrastructure even before Orji, came on board has significantly transformed under this administration. A number of hitherto failed roads in Aba now wear a new look courtesy of this administration.
"Apart from roads, Abia State under Orji, has witnessed transformations in other critical sectors including health, agriculture, education and security more than any previous administration in the state", the statement said.
The governor however, listed the new government house, international conference centre, specialist hospitals, Ubani market, industrial market, workers' secretariat, amongst others as some of the legacy projects doting the Abia landscape since he took over mantle of leadership of the state.
He wondered why any sincere person, who aspires to govern the state, would so blindly deny identifiable outstanding projects.
The Abia governor, also picked holes in Udensi's bogus claims that he (Udensi) would make education totally free if voted into power, saying that "this is what one of these overzealous political neophytes said in a certain state but when he eventually became governor could not fulfil the promise".
According to Orji, "APGA is dead in Abia, and Udensi is never close to flying the flag of any reasonable party except those that only exist in the imagination of the brainwashed folks."
He advised the good people of Abia state to disregard the unfounded comments by the APGA chieftain, saying he is only looking for cheap publicity.
Short URL: https://www.africanexaminer.com/?p=16088