Governors, Aid Groups, Other Stakeholders Urged To Step Up Drive To Stem Insurgents' Attacks
Latest News, News
Wednesday, November 18th, 2015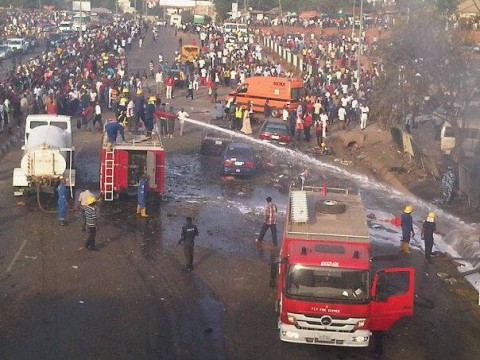 By Niyi Adeyi
In order to overcome challenge of high casualty from the terrorists' attacks, the major stakeholders in the North East zone, including the state government and aid groups to focus attention on increasing awareness among the citizens.
While reacting to Tuesday evening's bomb blast in Yola, the Adamawa State capital, in which 32 people were killed, the Muslim Rights Concern (MURIC) in a statement it issued Wednesday by its Director, Professor Ishaq Akintola, stated "is one explosion too many", adding that it amplified the need to intensify citizen awareness more than ever before.
To this end, the group suggested that announcements on radio and television should be repeated every 15 minutes and warnings printed on leaflets should be distributed to the public in motor parks, markets, mosques and churches.
It added that such announcements should educate citizens on what to do relating to insurgency, such as how to identify a prospective suicide bomber, the danger in ignoring abandoned luggages and the need to report strange faces in the communities to security agencies, among others.
"Nigerians must not leave the war against insurgents to the military alone. We must give our gallant soldiers every necessary support. America was able to stem bombings because its citizens were on red alert everywhere.
"The military is doing what it should do at the moment. Boko Haram fighters are feeling the heat. They are now on the run and this informs their recourse to guerrilla warfare, striking behind the lines and attacking soft targets. The aim is to embarrass the Federal Government.
"These attackers are not ghosts. The fact that they are still able to inflict serious damage implies negligence on the part of the citizens. The state governments in Adamawa, Borno and Yobe should raise the alert level to deep red" MURIC directed.
It called on the non-governmental organizations and aid agencies in the zone to enlighten citizens in the three states on the principles of self-survival and the significance of staying alive, as well as to create awareness on the after-effects of falling victims of bomb attacks and the implications of losing one's limbs in such circumstances.
The organization also advised: "As a necessary precaution, all the remaining state governments throughout Nigeria should be on the tip-toes of alertness. They should properly educate their citizens on what to do to avert bomb attacks inside commercial vehicles, in motor parks, markets, workplaces, bus stops, airports, etc.
"We urge the press to take up this challenge. In view of the fact that educating the public is one of the cardinal functions of the press, the Nigerian print and electronic media is invited to embed in their publications and programmes short but catchy jingles capable of heightening security consciousness among the citizenry".
MURIC charged residents in the North East and the country in general, to be vigilant in order to avoid more bomb blasts.
Short URL: https://www.africanexaminer.com/?p=27625