Group to Justice Salami: Enjoy your Retirement in Shame
Abuja, Featured, Latest News, News
Thursday, September 26th, 2013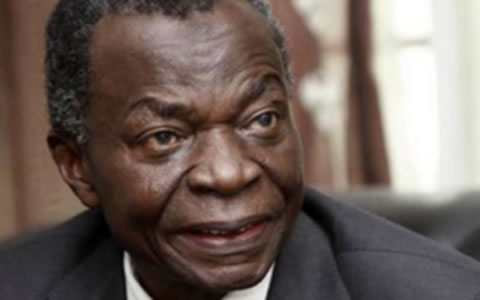 The Society of the Rule of The Rule of Law in Nigeria (SRLN) has reacted to the statement credited to the retiring suspended President of the Court of Appeal, Justice Isa Salami that he was leaving the bench with his "head high" and that he had no regrets leaving the bench, asking him to rather; "go home to enjoy his retirement in shame rather than insulting the intelligence of Nigerians."
In its reaction released by the National Coordinator, Comrade Chima Ubeku, the group said "despite the chest beating statement, Nigerians know that Justice Salami is leaving the bench in disgrace having breached his oath of office and code of judicial ethics."
SRLN said no matter the image laundering efforts, the malfeasance unleashed on the bench by the corrupt actions of the retiring judge had soiled the white garment of the bench.
The Society recalled the most recent Police investigation, which exhumed the facts of Salami's interaction with leaders of the defunct Action Congress of Nigeria (ACN), which prompted the Police to recommend the Prosecution of telecom giant MTN for suppressing evidence before the National Judicial Council (NJC) panel.
The report of Police investigations into MTN's alleged manipulation of the call data records in question Reference: CR3000/X/X-SQD/FHQ/ABJ/VOL.2/230, dated February 8, 2013, titled Police Investigation Report on A Case of Conspiracy, Forgery and Perversion of the Course of Justice By MTN Nigeria Ltd,  reads in part: "Request was made to MTN to furnish the particulars of the following subscriber numbers and the company responded thus: 08034004887 belongs to Justice Isa Ayo Salami; 08034240000 belongs to Bola Ahmed Tinubu (registered  in the name of MTN Director, Tunde Folawiyo (Lagos State Governor); 08034010700 belongs to Alhaji Tunji Ijaiya.
Mathew Okoromi, a Senior Subscriber Fraud Analyst in MTN's employ, confirmed that the CDRs obtained  by Area G Command, Ogba, Lagos (which one Rotimi Odusola of MTN repudiated before the National Judicial Council's Special Investigative Panel) actually emanated from the telecoms firm.
"Subscriber no. 08034010700 which belongs to Alhaji Tunji Ijaiya of 8, Aderemi Adeleye Road, GRA, Ilorin appears to have been used as a link between 08034301111 (Lai Mohammed), 08034240000 and 08062240104 (Bola Ahmed Tinubu), and 08034004887 (Justice Isa Ayo Salami of Plot 11, New Bussa Close, Area 3, Garki, Abuja) as there was exchange of calls between Justice Ayo Salami and Alhaji Tunji Ijaiya on the one hand and Tunji Ijaiya with the other mentioned subscribers.While call logs earlier released to Area G Command, Ogba, Lagos spanned a period of five calendar months, MTN claimed its historical data storage capacity was limited only to 3 months"
The Report also highlighted the fact that "incoming calls were missing from the call data records forwarded to both the SSS and NSA"According to the Report, " A legal advice received from the Legal Section of the 'D' Department (FCID), Abuja dated 8th February, 2013, opined that MTN Nigeria should be prosecuted for suppressing evidence in this case as provided by Section 167 (8) of the Evidence Act, please".
The society said it was only in Nigeria with  record of impunity and ineffective security and law enforcement that a character like Justice Salami can be walking a free man having been indicted.
"It is on record that the former Kebbi State ACN gubernatorial candidate and present Minister of Special Duties, Alhaji A.Turaki testified before the NJC panel of sending  text messages every friday to Salami while Alhaji Lai Mohammed, then ACN National Publicity Secretary acknowledged that he called the judge for social reasons.
"So what is now hidden that Nigerians don't know and how can any reasonable and respectable judge hold his head high in such a mess?", the group stated.
The group berated the NBA for arranging an image laundering event  for a "disgraced" judge saying " it takes a corrupt bar to recognise a corrupt judge," adding that Nigerians know that  some lawyers  have been accused of being conduit for bribing judges.
Short URL: https://www.africanexaminer.com/?p=1767