Harsh Economy: Senate Laments Nigerians Are in Serious Pains
Featured, Latest News, News
Tuesday, July 19th, 2016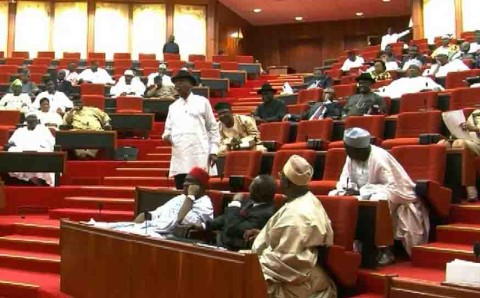 – As briefed by CBN Gov; Fin. Minister
Ayodele Afolabi, Abuja
ABUJA, NIGERIA (AFRICAN EXAMINER) – The Senate on Tuesday acknowledged the pains being faced by many Nigerians as result of the dwindling fortunes of the country's economy, lamenting to the leadership that the people are suffering.
The Senate's concern came as the Finance Minister, Mrs. Kemi Adeosun, is summoned to appear before it today for briefing on possible way out.
Senate's acknowledgment of the pains, came after having about two hours closed door session with the Governor of the Central Bank (CBN), Mr. Godwin Emefiele who briefed Senators on the state of economy in line with earlier resolution passed to that effect in May this year.
In a statement issued by the Senate, after the briefing, the red Chamber admitted that these are indeed difficult times in Nigeria and all over the world going by information made available to them, some of which its Vice Chairman on Media and Publicity Committee, Senator Ben Bruce said might become too explosive if allowed into public domain.
"Following an exhaustive response by the CBN Governor and his team, the Senate acknowledged that these are indeed difficult times all over the world and not just Nigeria.
"The Senate also acknowledged the pains that many Nigerians may be facing at this time, especially in the light of increase in price of electricity and fuels".
Senate's leadership in the statement added that Lawmakers at the briefing raised issues concerning the banking system, the slippage in economic growth for the first quarter of 2016, the gradual rise in inflation, fall in foreign exchange reserves and policy coordination between the fiscal and monetary authorities.
The Senate however in the statement expressed its strong conviction that going by the policies already put on ground by the CBN, that the Nation's ailing economy would eventually come out of the woods.
"Having carefully considered the policies of the CBN, the Senate would like to commend and support these policies because they are mostly geared towards increasing local production, creating jobs here in Nigeria, safeguarding our commonwealth and expanding economic opportunities and growth in Nigeria.
"The Senate believes strongly in the resilience of the Nigerian economy and the ingenuity of the Nigerian people and as such, confident that we will all pull through these difficulties and come out as much better, equitable and prosperous nation"
Short URL: https://www.africanexaminer.com/?p=34332