How Bank PHB Officials, Nulec Boss defrauded Oil Guru of N855 million
Uncategorized
Tuesday, November 12th, 2013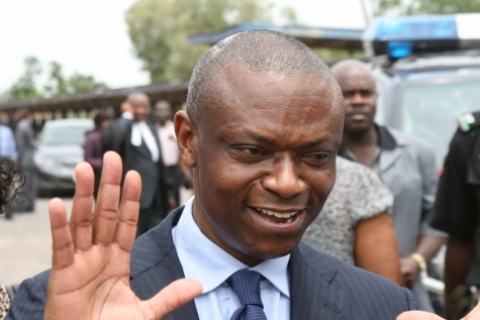 Ruth Bamidele, Lagos
A Lagos High Court, Ikeja was on Monday informed of how three officials of defunct Bank PHB (now Keystone Bank) and Nulec Boss defrauded Sir Daniel Chukwudozie of Dozzy Oil Limited to the sum of N855million
Mr Orji Chukuma testified as a first prosecution witness through his counsel, Mr Rotimi Jacobs (SAN) and told Justice Kudirat Jose that the Economic and Financial Crimes Commission ( EFCC) received a petition from Mr. Daniel Chukwudozie alleging that the bank officials alongside others by false pretence defrauded him.
According to the witness, an investigative officer of EFCC told the court that officials of the bank PHB Ananyo Nwosu, Olajide Oshodi, and Sunny Obazee alongside Chairman of the electronics company, Nulec Industries Limited, Mr. Ashok Isran fraudulently sold a dead company shares to him.
He disclosed that Nulec Limited was a dead company which owned Bank PHB the debt of N130 million and several other banks.
He added that Anayo Nwosu of Bank PHB was chukwudozie bank account officer.
The officer revealed that Nwosu approached Chukwudozie to invest in Nulec limited with the intention of recovering the debt from the shares purchased.
His words,"Nulec was a dead company owing almost every bank but because Nwosu of Keystone Bank know that Dozzy has money in his account to his ambition, he packaged a false placement of Nulec shares in order to deceive Chukwudozie and recovered Nulec Debt to Bank PHB".
The witness disclossed that Nulec Limited was already a dead company as at the time its shares were marketed to Dozzy Oil and Gas limited.
He further said that the idea was to use the Dozzy fund meant for purchase of shares to pay the debt of Nulec that was owned to Bank PHB.
He also said investigation revealed that the proceeds of this private placement were utilized before the end of the placement.
He revealed the sum of N557 million was illegally transferred by Keystone bank to Risa Enterprises, a Switzerland company through different commercial banks.
According to him, "The aim of Bank PHB was solely to get back the money owed them by Nulec, their dead client and therefore defrauded an innocent Nigerian"
He said Nwosu deliberately approached Dozzy adding that the Keystone officers admitted selling the shares to chukwodozie and further creating the impression that the shares will be sold at a higher price.
He said Isran, Nulec boss during investigation admitted violating the purpose of the private placing of the alleged N140 million designed to purchase shares.
It would be recalled that the defendants were arraigned by EFCC on 12 counts before Justice Olabisi Akinlade.
The anti-graft Commission alleged that the defendants collected the sum of N855 million from Mr. Daniel Chukwudozie of Dozzy Oil under the pretence that the said sum represented payment for preference shares of Nulec Industries in an upcoming initial public offer."
Justice Jose however adjourned the matter till November 20 for continuation of trial.
Short URL: https://www.africanexaminer.com/?p=4719