I Didn't Join APC Because PDP Denied Me Contracts, Says Nwobdo
Featured, Latest News, News
Sunday, January 29th, 2017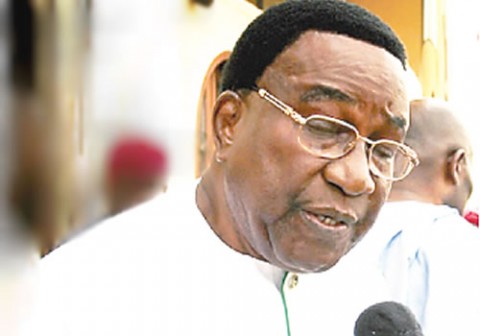 By IGNATIUS OKPARA,Enugu Nigeria
(AFRICAN EXAMINER) – A one time Governor of old Anambra State, Senator Jim Nwobodo has reiterated his earlier reason why he dumped the People's Democratic party, PDP for the ruling All progressive Congress, insisting that he left because of the impunity in the past, as well as to join hands to build the party for the overall interest of Ndigbo.
The former Minister of youth and sports was  reacting Thursday to what he described as recent deliberate misrepresentation of his comments on the social media.
Nwobodo said he was surprised that it was reported in the social media that he said he defected to APC because the PDP denied  him contracts
The former governor, who re-registered as a member of the APC, in the on-going national re-registration exercise, said that he joined the APC one year ago not for any selfish interest.
He said that: "it is total lies; I couldn't have said that; I'm too sensible.
"I know those who are doing that; they have no electoral value. Their joy is to destroy anybody coming to the APC. It is a total lie."
Nwobodo noted that he laboured so much as one of the founding fathers of the PDP, that "there is no prominent politician in Enugu PDP today who I did not help."
He, however, advised the APC members to stop all forms of bickering and join forces to move the party forward.
His words: "Your job should be to build the members, build the party, not to destroy the members; that will not do the party any good", he advised.
Also reacting to the misrepresentation of Nwobodo, the South-East publicity secretary of the APC, Hon.. Hyacinth Ngwu, said the former governor joined the party shortly after the 2015 general poll.
According to Ngwu:"He told us he was coming to help build the party in the South-East, so that when the time comes, the zone will have a strong, fortified political structure that can gun for the presidency.
The South- East APC spokesman added: "He hasn't come to contest any position with us or for contract but to help us in Enugu,
He is the father, the grand-father, which transcends beyond 1999", Ngwu further declared.
Short URL: https://www.africanexaminer.com/?p=37765