IDPs Accidental Bombing: Setting Up Investigation Committee Unnecessary, Says Ex-Delta MILAD
Latest News, News Across Nigeria, News From The State
Friday, January 27th, 2017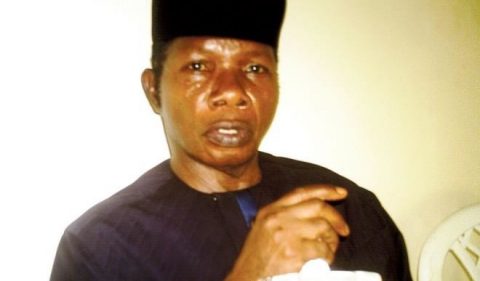 By IGNATIUS OKPARA, Enugu
(AFRICAN EXAMINER) – A one-time Military Administrator (MILAD) of Delta State, Sout-South Nigeria, Air Commodore Luke Ochulor (rtd) has faulted the setting up of an investigation committee to probe the recent Air Force accidental bombing of Internally Displaced Persons (IDPs) camp at Rann, Bornu State, saying it was quite unnecessary, just as he ruled out sabotage from the tragic incident.
A Nigerian Air Force jet fighter had on January 17, 2017, mistakenly bombed IDPs camp at Rann killing no fewer than 52 persons, while 120 sustained various degrees of injuries.
To unravel the remote and immediate causes of the disaster, the Nigerian Air Force has named a six-man investigation committee.
But reacting to the incident in an interview, Air Commodore Ochulor, argued that the tragedy was a mistake that should not  be particularly attributable to the Nigerian Air Force but to the  war commanders in that theatre of war.
According to him, there was no need for the investigation committee set up by the NAF to probe the incident because those soldiers who are fighting Boko Haram insurgents are professional and sophisticated officers "who are trained and trusted" in the first place.
"The investigation that is being carried out does not make sense to me because those who are fighting have lost their lives, and how come now they are going to investigate such a mishap as if those who died while fighting Boko Haram do not matter,"
The retired Air Commodore, noted that the same people who are doing the investigation are the same professionally trained officers who are doing the fighting because they are trusted.
He said that although Boko Haram insurgents have been reduced to the situation that they cannot fight a conventional warfare, but engaged in Gorilla tactics, and was likely to mix up with IDPs in their camp, that did not justify the insinuation for sabotage in the incident.
He said that it was needless engaging in midnight air bombing except when it was absolutely certain that Boko Haram terrorists were amassing at a point, "a thing they are not likely to do,".
"Since the insurgents have been weakened, it's expected that the ground troops should strike them down meticulously and deal with them decisively; even at that, it's not easy.
"The Boko Haram elements are likely to mix up with IDPs because they are fighting a war of survival and religion," he said.
Ochulor further explained: "It's not sabotage. "From information we have received, that bombing took place around 2am Nigerian time. At that time, the Nigerian Air Force relied on the instrument bombing and the coordinates given to it.
"These coordinates were given by people on the ground." adding that over the years, the level of development of NAF in its target acquisition instruments  has improved so tremendously that it could be trusted.
He stressed that what Nigerians could do now was to pray for better operational measures in the future.
Ochulor, however, cautioned those who are commenting on the incident to realize that what is going on in Borno State and other parts of North East zone of Nigeria is not military exercise but a full-scale war against the enemies of the Nigerian state – Boko Haram terrorists.
"What happened was a mistake which must be accepted as such; it is regrettable but those who are making comments should be very careful when commenting on military matters. Most of those who have commented on the incident have done so out of ignorance.
"Comments should be left for professionals and not for people who are reading from newspapers. Any Air Force in the world can make a mistake," he stressed.
Meanwhile, the Director of Public Relations and Information, NAF, Group Captain Ayodele Famuyiwa said the mandate of the committee was to thoroughly investigate the accidental bombing and make sure such unfortunate incident is avoided.
Short URL: https://www.africanexaminer.com/?p=37755