Ife Chiefs Dismiss News Of Ooni's Death, Says Monarch "Hale And Hearty"
Featured, Latest News, News
Wednesday, July 29th, 2015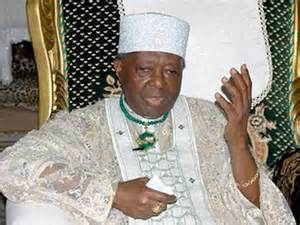 By Akin Soneyin – The Royal Traditional Council of Ile Ife, Osun, South Western Nigeria, has described as a mere rumour, the widely reported news of death Tuesday, the Ooni of Ife, Oba Okunade Sijuwade, the Olubuse II.
At a press briefing, jointly addressed Wednesday by the Lowa Adimula of Ife and Secretary of the Royal Traditional Council, Chief Adetoye Odewole, were categorical and very assertive in denying the news of the paramount monarch's demise.
The chiefs contended that the Oni's palace was in the best position to be first briefed about Oba Sijuwade's death, if happened in the first instance, as well as the recognized authority and source to make public of such announcement, adding the social media was not the right channel.
The traditional Chiefs established that Oba Sijuwade was hale and hearty, stating as they spoke, the front line traditional ruler was presently preparing for his son's wedding, slated for this Sunday, also saying the rumour would be finally doused when the traditional ruler attends the upcoming function.
Chief Odewole recalled that Tuesday rumoured death of Oba Sijuwade was not the first in history, as similar situation occurred in 2002 and 2004.
Short URL: https://www.africanexaminer.com/?p=24623