I'll Prosecute Police, Military Officers Violating Traffic Law in Lagos –Fashola Vows
Ayo Balogun, Featured, Latest News, News
Thursday, October 31st, 2013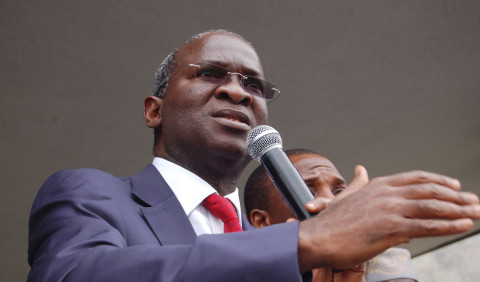 Ayo Balogun, Lagos
Lagos State Governor, Mr. Babatunde Fashola has vowed to prosecute police and military officers violating the Road Traffic Law in Lagos southwest, Nigeria.
Many of the police and military officers have been violating the law with impunity as they ride motorcycles below the approved 200cc on the prohibited routes, while some have capitalised on the traffic law to extort money from transporters.
Fashola, who spoke in Lagos, while x-raying the success of the traffic law in the last one year said the state had recorded utmost success, but lamented the impunity at which some police and military officers violate the law.
"Traffic accidents have reduced from 646 reported accidents in August 2012 to 118 reported accidents in July 2013, and deaths from motorcycle accidents have reduced from an average of 12 (Twelve) per month to 1 (One) per month and indeed no deaths were recorded in August, September, and October.
"We are concluding plans to implement the next phase of the Law, and we have been working with the Transport Unions to sensitize them.
"Let me reiterate that out of over 10,000 roads in Lagos, the law restricted motorcycles from plying only 475 which were highways, if such motorcycles were not up to the 200cc capacity.
"The law also provided that in the over 9,000 roads where there is no restriction, the riders must wear safety helmets and not carry more than one passenger," he explained.
According to the governor, "while I must commend the operators for largely complying, I cannot say the same for a few law enforcement agents and few military personnel who have either turned enforcement into an extortion exercise for money or have seen themselves as above the law by violating our traffic laws and BRT Laws.
"Let me say to them clearly, that it is bad enough if law enforcement personnel violate the laws they are constitutionally paid to enforce, it is the height of impunity if they do so in uniform. That uniform is the symbol of the authority of the State and it is funded from tax payers' money.
"I have news for those bad eggs who give law enforcement a bad name in this country. We will bring you to justice and make examples of you; before you bring dishonor to these timeless institutions that have produced officers and true gentlemen."
Short URL: https://www.africanexaminer.com/?p=4111