"Immigration Job Tragedy Is Industrial Murder"
Featured, Latest News
Sunday, March 16th, 2014
Ayo Balogun, Lagos

The Nigeria Labour Congress (NLC) says the death of 19 Nigerians during the Nigeria Immigration Service (NIS) employment test amounts to nothing but industrial murder and called on President Goodluck Jonathan to act urgently by bringing to book those responsible for the tragedy.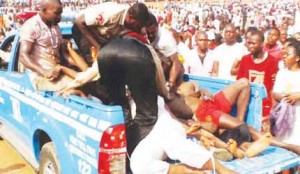 NLC, in a statement signed by Issa Aremu, Vice President, NLC said these kinds of tragedy had become the trademark of NIS as it was becoming addictive and widespread.
"When tragedies get addictive and widespread, (as it is regrettably becoming the regular trade mark of the Nigeria Immigration Service) these are no more "accidents" or flash but clearly avoidable incidents. Indeed the deaths are nothing less than industrial murder whose known perpetrators are known.
"Nigerians do not need another probe panel on this tragedy. In 2008 under Yar'Adua's administration after similar carnage called recruitment, the Federal Government instituted a probe into the circumstances which led to the death of scores of applicants nationwide. The outcome of this probe was never known. Nigerians are probes-fatigue. Indeed the probe has not stopped this weekend's industrial murders. This certainly should not be another opportunity for probe-panel beating," NLC said.
According to the NLC, Nigerians demanded direct government's actions on the part of President Goodluck Jonathan to demonstrate that no life of an applicant would be further wasted at any recruitment centre.
"The President should take preventive actions to prevent shameless exhibition of incompetence and non-service delivery by some of his ministers. The Minister of Interior, Mr. Abba Moro must get to the bottom of the recent deaths, falling which he must resign from administering a Ministry increasingly notorious for employment scandals and employment tragedies.
"The Minister is wrong to blame the victim applicants/job-seekers. The blames must go to the Nigeria Immigration Service (NIS) bureaucracy which reportedly collected illegally as much as N6billion from applicants but failed woefully in putting appropriate mechanisms for genuine aptitude tests and applicants crowd control," it added.
NLC said what the nation needed urgently was a far reaching new labour market policy that would put an end to this serial primitive recruitment exercise which, left in its trail despair, tears and dead bodies rather than living employed applicants.
"After the centenary celebration, Nigeria must put an end to bazaar inhuman recruitment programme reminiscent of the hated slave Market of the 16th century and colonial forced labour under Lord Lugard in 19th century," it stated.
The body called on the Nigerian government to declare a state of emergency on unemployment in the country due to the millions of unemployed youths roaming the streets of the nation in search of jobs.
"Nigeria is actually in a state of emergency as far as unemployment, underemployment and idle capacity are concerned. What the governments at all levels need is to officially recognize this grim reality and roll out (not just declare) emergency measures. America after the Second World War was not confronted with this scale and dimension of unemployment; school leavers of different grades before President Roosevelt declared a new deal, the bedrock of which was affirmative commitment to full employment at all costs including paying people to dig and fill same holes.
"Jonathan administration should urgently break the jinx of the painful paradox of a country with so much to be done in all sectors, with so much resource endowment and yet inexplicably saddled with such huge idle hands. Today school graduates have all the degrees, Bsc, B A, Msc, MA, Ph.D but they lack the singular degree to terminate income poverty, which is job.
"The event of the last week is a rude awakening for the administration to create jobs, jobs and jobs (in-that-order). Promotion of mass employment opportunities is fundamental for Nigeria's economic recovery while conversely idle capacity pushes the country into under-development. We cannot be part of the 20 leading economies with idle school leavers and army of under-employed such as okada riders whose value addition is suspect. The first challenge for Nigeria is to place employment at the heart of economic and social policies. We must pursue job-led growth and NOT jobless growth,' it stated.
Short URL: https://www.africanexaminer.com/?p=9191