Infidelity: Man Dies 4 Days After Fighting With Lover's Husband
Latest News, News
Thursday, May 29th, 2014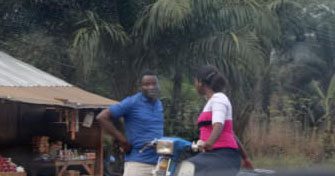 IGNATIUS OKPARA, Umuahia
The entire Umuode community in Osisioma Ngwa local government area of Abia state was on Wednesday thrown into confusion when a middle aged man, Hanson Jacob lost his life four days after his lover's husband, Mr. Frank Aro attacked him with an iron rod.
African Examiner gathered that the incident, which took place at No 49 Umuode road, Aba, has forced some neighbours to flee the area for fear of police arrest.
Our correspondent learnt that Mr. Aro,  who hails from Ishiagu in Ebonyi State, has been suspecting his wife, Chika and the deceased of having extra-marital affair which became a common gossip in the entire community.
Aro, was said to have confronted and warned his wife severally over the alleged unholy relationship, but the latter denied having any affair with the late Hason.
A resident of the area who doesn't want his name in print, told our correspondent that "It is like Frank has been monitoring his wife and her lover".
"It was also possible that somebody alerted him that day, and he suddenly returned home unannounced and caught his wife and her lover in the room making love.
"The man attacked Hanson with an iron rod and inflicted several injuries on him. Hanson was heavily hit that he couldn't walk, but was later taken to the hospital while the husband and the wife handed themselves over to Police at Osisioma Ngwa Division after the incident."
African Examiner further gathered that Hanson who was admitted at the Abia State Teaching Hospital (ABSUTH) died four days later.
The Abia State Commissioner of Police CP, Adamu Ibrahim who confirmed Hanson's death, disclosed that Frank and his adulterous wife were already in police custody.
According to the Abia state police boss, the command, has commenced full scale investigation into the ugly incident.
Short URL: https://www.africanexaminer.com/?p=11903