Israelis Prime Minister, Netanyahu Explodes; Threatens Killers of Three Teenagers 'Will Pay' For The Death
Latest News, News, World News
Tuesday, July 1st, 2014
A Palestinian from the Hamas was shot dead when he threw a grenade at forces carrying out an arrest raid in the West Bank hours after the discovery of the bodies of three Israeli teenagers who were abducted over two weeks ago, Israel's security has reported Tuesday.
Tensions Associated Press revealed have risen since the bodies of Eyal Yifrah, 19, Gilad Shaar, 16, and Naftali Fraenkel, a 16-year-old with dual Israeli-American citizenship, were abducted on June 12 and were found dead.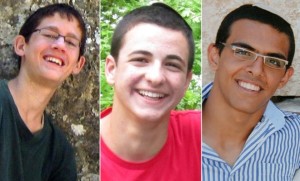 Israeli Prime Minister Benjamin Netanyahu blamed Hamas on the killing and vowed it "will pay" for the death, stressing "Hamas is responsible and Hamas will pay" for the crime.
BBC reports that Israel has since launched more than 30 air strikes on the Gaza Strip overnight. The strikes came in response to 18 rocket attacks on southern Israel from Gaza since Sunday night according to the Israeli military.
Israeli troops has also besieged the Palestinian town of Halhul. The dead bodies of the teenagers were found under a pile of rocks near the town. An Israeli official said it appeared they were shot soon after their abduction.
Israel has named two suspects as Ayoub al-Kawasma and Abu Aisheh. The Israeli military said it set off explosives while raiding the homes of both.
The deaths of the students, who were last seen at a junction between Hebron and Jerusalem has attracted international condemnation.
Israeli security forces have set up blockades and closed down whole areas around Halhul, a few kilometres from where the teenagers were last seen.
Similarly, Israeli Economy Minister Naftali Bennett has drawn a battle line as he posted on his Facebook: "Murderers of children and those who direct them cannot be forgiven. Now is a time for actions, not words."
Short URL: https://www.africanexaminer.com/?p=13759