Jonathan to Opposition: Constitution Allows me To Run For Two Term
Featured, Latest News, News
Sunday, September 22nd, 2013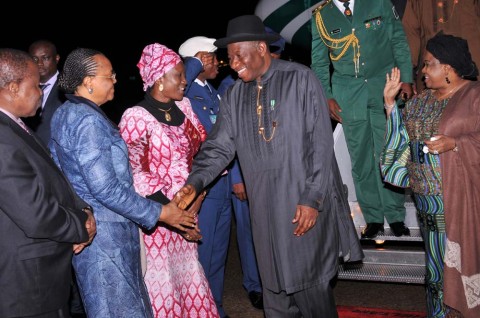 The African Examiner, New York
In an obvious response to the ongoing political debate about whether he will run for a second term or not, President Goodluck Jonathan has told the opposition that the constitution allows him to run for two term of eight years.
Speaking at a lunch with Nigerian professionals in diaspora in New York, United States, President Gooddluck Jonathan also stated that when somebody is voted into the office the opposition must desist from distracting the person adding that such person must be allowed to work for the good of the country.
"Already we have a constitution that makes provision for maximum of eight years for anyone who wants to become a president or a governor at the end of an election if somebody emerges you must allow the person to work. If you love your country you would want your country to work. " the president explained
Mr Jonathan further noted that "that does not mean that you will not vote against the person if you don't like the way he works but you must allow him to work".
He also appealed to politicians "that no matter how you feel about the political situation in the country, consider the interest of your country first before yourself."
Mr Jonathan also dismissed insinuation that his administration is not doing enough to fight corruption as he stressed that before now previous governments were spending 25 billion on ferterliser in which only 11 percent get to farmers.
According to him, "government now spends between N5 to 6 Billion on fertiliser and we are getting 80 per cent reach. If we wanted to continue to steal money or look for money for election, we could have continued."
Short URL: https://www.africanexaminer.com/?p=1557