Kabul Bombing Kills at Least 80, Shaking City Center
African News, Latest News, North Africa
Wednesday, May 31st, 2017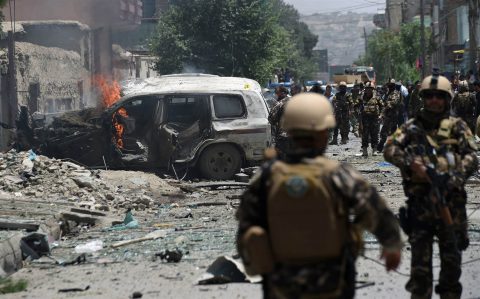 AFRICAN EXAMINER — A truck bombing near the Afghan presidential palace early Wednesday killed at least 80 people and wounded hundreds, officials said. The death toll seemed certain to rise, and the attack appeared to be one of the bloodiest of the long Afghan war.
The huge blast during the morning rush hour caused panic in much of central Kabul, shattering windows as far as a mile away. Nearly two hours after the explosion near Zanbaq Square, a crowded area in the capital that leads to the presidential palace as well as major foreign embassies, plumes of smoke were still rising from the scene.
At a time when the United States is weighing sending more troops to Afghanistan to try to halt the government's losses, the attack on Wednesday highlighted the continued ability of militants to strike even in the most secure parts of the capital. And outside the country's main cities, the Taliban have rapidly been seizing territory and have kept the Afghan security forces badly bloodied and on the defensive.
At a news conference in Kabul, Gen. Murad Ali Murad, the deputy interior minister, said that more than 80 people had been killed and 463 wounded./NYT
Short URL: https://www.africanexaminer.com/?p=39502