Kofi Annan Hails US, Others For Supporting Nigeria To Fight Terrorism
Articles/Opinion, Latest News
Thursday, May 8th, 2014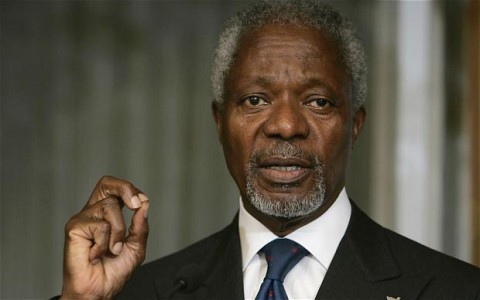 Action by the Nigerian government and international partners to go after the group that has held more than 200 girls captive in that country should have come sooner, former United Nations Secretary-General Kofi Annan told CNN's Christiane Amanpour on Wednesday.
"I think the government should do all it can to get the girls free," he said, "and I'm very happy that the U.S., the U.K., and other governments are teaming up with Nigeria to resolve this issue."
"I wish this had happened earlier, but it is happening, and the Nigerian people are also demanding action."
Boko Haram abducted 276 schoolgirls last month, and Nigerian President Goodluck Jonathan has come under fire after waiting three weeks to publicly acknowledge the kidnappings.
The Nigerian government also now accepted U.S. and British offers of assistance, officials with those governments said.
The kidnapping, Annan said, are "abominable."
"It is something that should not be happening in modern-day Africa."
Annan is uniquely placed to address the issue.
He has been spending  his time since leaving the United Nations  to push for democracy, conflict-resolution, and trying to raise up Africa's poorest and most vulnerable.
Annan chairs the Africa Progress Panel, which is due to release its latest report soon.
"I think one of the areas we recommend in the report – and [the Nigerians] are beginning to do something about that – is really focus on expanding and working on agriculture," Annan said.
Short URL: https://www.africanexaminer.com/?p=11041