Lagos Plans To Deploy Additional 1,000 Security Cameras Statewide
Latest News, News
Tuesday, January 21st, 2014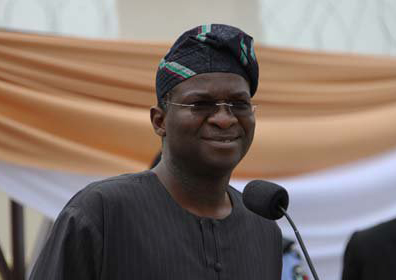 Ayo Balogun, Lagos
The Lagos State Government has concluded arrangement to deploy additional 1,000 Close Circuit Television cameras, CCTV, to monitor activities of criminals in the state, says Governor Babatunde Fashola.
He says the cameras would complement the existing 1,200 security cameras already deployed in strategic places across Lagos.
The governor, who spoke in Lagos, Nigeria on Monday during the Public Security System Demonstration of the use of the 1,200 security cameras already deployed to the state, said the government was planning to expand existing camera and telephony infrastructure to support deployment of the additional cameras as well as deployment of cameras to effectively cover the entire state to make it safe and secure.
He explained that the demonstration is a follow up to what was started many years ago when a pilot scheme was located in Lekki in 2008 with one camera saying it was a demonstration of the resolve of the Government to do something about improving the capability of its personnel to carry out their duties as far as protection of life and property, its primary responsibility is concerned.
As he said, the demonstration was meant to show how far his administration had come since then even in spite of the many criticisms, cynicism and doubts cast on the project.
"Now, we have moved from a zero camera State to about 1,200 Camera State. How significant that is, some numbers would show us. We are now in a position where we are now on one camera to about 10 sq kilometers, so we are far behind other cities like New York and London, where they range between 200 and 450 cameras per Sq km. but we have moved from 0 over 4000 Sq. kilometers and we have reduced that distance significantly.
"How did we do it, we have merged our cameras with the ones that the Federal Government installed, so we have taken all the feeds in here. We have moved from one small screen that you saw in Lekki to 27 screens that are collapsible in all forms either to one big wall, three screens and so on," he said.
Fashola also explained that it was vital to focus attention on the fact that the Camera Control security centre is not a one event destination but a continuous and persistent implementation of many small solutions that has brought the State this far.
He added that it is a big web that started first with the Security Trust fund which provided equipment, vehicles, stuffs and was followed by street signage because it was discovered that while the Police could move they could not identify streets.
"We followed that with house numbering, all of which are still work- in- progress and we realize that now that we could get Police to move, but how do we call them. We moved from an 11 digit number to 3 digit number, 767 or 112 because we did not think people in trauma will remember an 11 digit number easily and how quickly you can contact the Police or ambulance is the difference between what practitioners of disaster management call the golden hour."
The governor was optimistic that with all these security equipments being put in place, there would be no hiding place for criminals in the state anymore.
Fashola noted that since 2008, his administration had demonstrated its resolve to do something about the poor security situation in the state, explaining that the state was now in a position where it had one camera to cover about 10 square kilometers, noting that there is still room for improvement.
Lagos Commissioner for Science and Technology, Mr. Adebiyi Mabadeje said government was planning to purchase 10, 000 additional handsets for use by the police, RRS, Lagos State Traffic Management Authority, LASTMA, ambulance, fire service and others.
He stated that security equipments already deployed to the state include 1,000 plus surveillance cameras, 66 base-stations on CDMA technology, microwave links, normal telephony capacity, network with 3G data capabilities, existing camera while telephony infrastructure has the capacity to carry 100,000 subscribers.
The commissioner added that the cameras had been deployed in critical locations, such as Ikorodu Road, Oshodi, Agege Motor Road, Festac, among others, adding that 2,000 handsets had been deployed to members of the police and Rapid Response Squad, RRS.
Mabadeje also said video conferencing had been deployed by the state government to enable quick decision making among security operative, saying that the government had taken ownership of the infrastructure in addition to the pool of surveillance cameras, disclosing that the government fueled all 66 base-stations and maintained the stations and the 1,200 security cameras.
Short URL: https://www.africanexaminer.com/?p=7469