Lagos Residents Groan Under Incessant Blackout, Extortion By Electricity Officials
Featured, Latest News
Tuesday, January 14th, 2014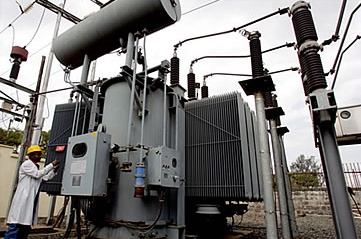 Activities in Oshodi Local Government Area of Lagos, Nigeria were halted for hours when residents stormed the office of the Ikeja Electricity Distribution Company, IKEDC, Mafoluku, Oshodi, to protest against extortion from IKEDC officials and incessant blackout that has plagued the council.
The residents, who defied the early morning sleep to storm the office of the electricity provider, barricaded the road leading to the IKEDC office and its entrance.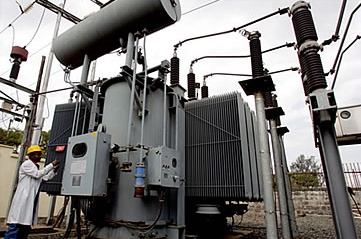 The need for a confrontation with the electricity provider which had been brewing since last year reached its peak last Saturday when the residents woke up to discover that IKEDC wasn't making effort to better the situation.
The residents, who were armed with placards with different inscriptions, condemned the action of the IKEDC. Some of the inscriptions on the placards reads: "Electricity is our right," "We are tired of perpetual darkness," "We need power supply to do our business, IKEDC," "You have crippled our income with your blackout policy," "We say no to crazy bill, give us our prepaid meter," among others.
It was gathered that the worst hit areas by the blackout which started in September last year were Branco, Ariori, Baderin Streets and its adjoining streets under Ariori/Ijaiye Community Development Area, CDA which have over a hundred houses each.
The residents argued that the blackout started four months ago when they declined the demand from the IKEDC Mafoluku Service Centre to provide the required fund to repair the armored cable supplying Ariori Street; which IKEDC estimated at N552, 400.
They lamented that IKEDC Mafoluku Service Centre Engineer, one Adegbola, rather than make any requisition to effect the repair for the residents, was waiting for the residents to provide the required fund.
They stated that before this, they had contributed at different times to repair or replace damaged IKEDC installations like concrete poles, aluminum conductors, unit hangers and others
Speaking on behalf of the angry residents, Mr. John Ezenku said "In August, one of the transformers in the CDA was vandalised. Rather than repair it, IKEDC Mafoluku Service Centre Engineer forwarded the required cost to the CDA. The CDA repaired it after collecting N3, 100 from each house."
Ezenku lamented "We have tried enough to support IKEDC to ensure that we enjoy electricity like any other community in Lagos. Yet, we are still experiencing blackout."
Mrs. Sifawu Ayinla, A landlady in the community said "during these periods of blackout, IKEDC was still issuing outrageous bills. Rather than read the meter, their officials issue estimated bills. Houses were billed between N10, 000 and N50, 000 monthly."
Another resident, Mrs. Tope Daramola explained, "as if we knew that this is what they wanted to do, we all requested for prepaid meter. After which we have paid N5, 000 for the forms. Since last year, we are yet to get the meters. And when we approached the officials, they said Mafoluku isn't among the area that will have prepaid meter."
Mr. Adisa Bashir complained, "this is robbery attempt from the officials. We are tired of this extortion."
Our demands, Mr. Ben Millers said "IKEDC should henceforth take full responsibility of its installations. We don't want estimated bills and should desist from distribution bills until it completely install the power supply in our community."
Short URL: https://www.africanexaminer.com/?p=7252