Let's End Terrorism In Africa, Osinbajo Tells World Leaders
Featured, Latest News, World News
Tuesday, March 28th, 2023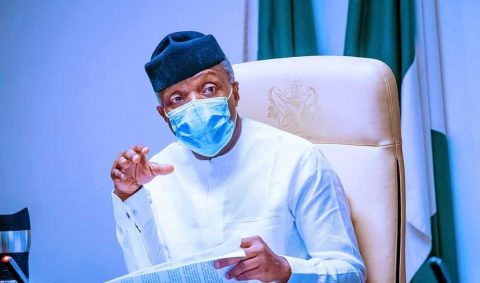 (AFRICAN EXAMINER) – Vice-President, Yemi Osinbajo, has enjoined world leaders to put aside their differences and work toward eliminating terrorism in Africa.
In a statement issued on Tuesday, Laolu Akande, Osinbajo's spokesperson, stated that the vice-president made the call during a lecture delivered at King's College, London.
Osinbajo stated that there was turmoil in the continent driven in part by poverty, alienation, environmental degradation, and poor governance.
According to him, terrorism increased the existing problems and he tasked world leaders to recognise that a threat of terrorism in any part of the world is a threat to humanity as a whole.
"The more pressing problem today is the encroachment by franchises of global terror groups into Africa; although many African countries have acted vigorously to tackle these terrorist groups," Osinbajo said.
"There is still much more that can be done especially in partnership with the rest of the international community.
"The Sahel appears to be the worst hit; according to the 2022 Global Terrorism Index, the Sahel has become home to 'the world's fastest-growing and most deadly terrorist groups' and Sub-Saharan Africa accounts for 48 percent of global terrorism deaths.
"The Sahel is also said to account for half a million internally displaced persons, 1.8 million people facing food insecurity, and 5.1 million people needing humanitarian assistance.
"Given the scale of the problem and the fact that the threat of terrorism anywhere on earth is a threat to the whole of humanity, I think it is time for the global community to treat the menace of terrorism in the Sahel as a common challenge.
"This is one area in which the great powers and emerging powers can put aside rivalries and work together with ECOWAS and the African Union on an initiative to stamp out terrorism in Africa, especially in the Sahel."
Short URL: https://www.africanexaminer.com/?p=86595