Letter: Jonathan Blasts Obasanjo, Says His Letter "Self-Serving, Highly Provocative"
Featured, Latest News, News
Wednesday, December 11th, 2013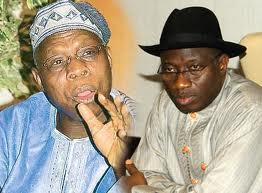 The African Examiner
President Goodluck Jonathan has blasted former President Olusegun Obasanjo describing his much publicized letter as self-serving and highly provocative.
In a strongly worded statement issued by the President's spokesman Dr Reuben Abati, President Jonathan was very furious that Obasanjo's letter was "deliberately leaked to the mass media" and thus described such leakage as "deplorable effort" to impugn his integrity.
The statement said that President Jonathan "finds it highly unbecoming, mischievous and provocative that a letter written by a former Head of State and respected elder statesman to President Jonathan has been deliberately leaked to the mass media."
It added that President Jonathan has directed that none of his aides or any government official should join issues with Obasanjo over the issues raised in the letter.
"The President himself will, at the appropriate time, offer a full personal response to the most reckless, baseless, unjustifiable and indecorous charges levied against him and his administration by the former Head of State." the statement stated.
In the controversial letter, which the presidency confirmed it received, Chief Obasanjo accused President Jonathan of destroying the country through his bad leadership by condoning tribalism, corruption and providing presidential shield for "criminals" and corrupt politicians to evade justice.
Read full text of Obasanjo's letter @ https://www.africanexaminer.com/?p=5854
Short URL: https://www.africanexaminer.com/?p=5832