Mark Berates War Mongers, Says Nigeria Will Not Disintegrate After Next Month's Election
Latest News, News
Tuesday, January 13th, 2015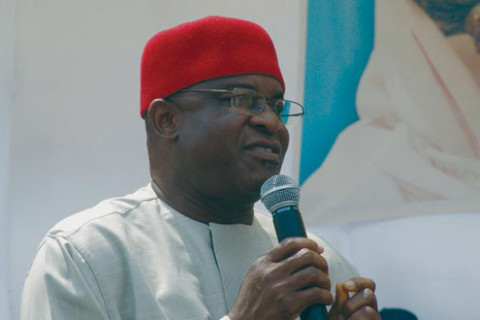 Ayodele Afolabi, Abuja – Senate President, David Mark has said that Nigeria will not disintegrate after the elections as being threatened by some political warmongers and dooms day prophets.
He berated those whose utterances regarding the elections are creating fear and panic among Nigerians.
Mark who made the declaration to Senators in his welcome address to the Senators from their Christmas and New year break, appealed to them and other stakeholders in the polity to play their expected role in ensuring that Nigeria witness a peaceful general election.
He said: "I am disturbed and saddened by the war songs emanating from many quarters, particularly from highly placed Nigerians who are threatening fire and brimstone.
According to him, elections need not dissolve into theatre of war. "It is my belief that war mongering will only result in a legacy that we will all regret.
His words: "We are all leaders and I know we will work towards peace and harmony . Our Nation will not disintegrate after the elections!.
"My bosses . Many of us are already on the field seeking the votes of our constituents. Experience has shown that the electioneering period are often difficult times. Politicians must desist from provocative and inciting utterances.
"We may be in different political parties but we are not enemies. We must educate, caution and guide our supporters and followers. Election should be an asset to democracy but where it leads to violence or acrimony, it becomes a liability".
Short URL: https://www.africanexaminer.com/?p=21595