Massive Corruption Rocks Rev Uja's Christian Pilgrim Commission
Featured, Latest News, News
Friday, March 22nd, 2019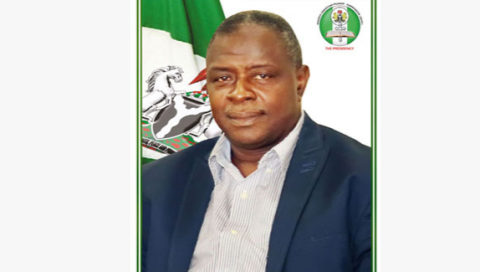 (AFRICAN EXAMINER) – The Nigerian Christian Pilgrim Commission (NCPC) led by Rev. Tor Uja is presently enmeshed in high level corruption, mal-administration and misappropriation even as the office of the Vice President, overseeing the commission looks the other way.
The Executive Secretary of the commission, Rev Uja is being accused of misappropriating millions of naira and failure to apply federal character in selection for pilgrimages.
Many stakeholders are wondering while the presidency is still keeping the corruption infested Rev. Uja after he was investigated recently over high level corrupt enrichment and high handedness among others allegations.
African Examiner gathered that among the issues Rev Uja is accused of and investigated for was alleged misappropriation of $229,000 which he claimed was spent on workshops in July 2017.
Also a $103,000 was claimed by Uja as having been spent on hiring of a hall during the education workshop for bidders in Israel in 2018 whereas the event took place at the hall of the Embassy of Nigeria in Tel-Aviv.
He was also accused of using $34,000 to pay for adverts in two newspapers in Israel, but the among could not be substantiated with advert rates of newspapers in Israel.
A story previously published by Persecond News, an online news website,  stated that a N500 million onshore budget of the commission which was not paid in 2016 but was released in 2017, a money meant for the commission in Nigeria was transferred by Uja to the commission's offshore account in Israel without the approval and knowledge of the board.
African Examiner also gathered that Rev Uja is accused of using the commission's funds to pay his numerous personal staff that he designated as Personal assistants on ICT, Liaison, Protocol, Registry as well as Special Assistants whereas he is not entitled to not more than one Special Assistant as other staff are expected to be drawn from within the commission to reduce cost.
The Executive Secretary is also being accused of collecting offerings from pilgrims in Israel saying the commission intends to build a Nigeria Prayer House in Israel which is not in any way accounted for as no such account is known to the commission's account department.
In January 2019 in Jerusalem, after a Prayer Convocation which was made up of Adamawa, Plateau, Delta, Ekiti and Anambra pilgrims, offerings were collected from the pilgrims in both Naira and dollars but yet to be accounted for.
All efforts to get Reverend Uja to respond to this story were unsuccessful as he did not pick his calls.
Short URL: https://www.africanexaminer.com/?p=47806