May Day: Lagosians Humilate Fashola As Anti-Govt Protests Mar Lagos May Day Rally
Featured, Latest News
Thursday, May 1st, 2014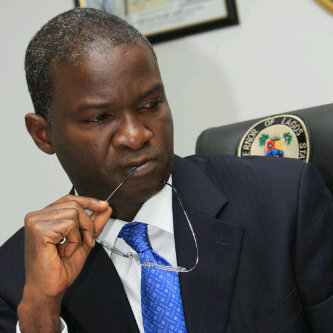 Ayo Balogun, Lagos:
Lagos State Governor, Mr. Babatunde Fashola was humiliated on Thursday at the May Day rally at Onikan Stadium in Lagos, Nigeria as hundreds of aggrieved protesters stopped him from taking the normal salute and prevented the march-past.
The protesters were lecturers and students of the Lagos State University in conjunction with civil society groups, that accused the governor of high handedness and insensitivity in increasing LASU fees obnoxiously.
The protesters stormed the Onikan Stadium early in the morning with placards, chanting anti-government songs and prevented thousands of workers who were gearing up for the march-past from doing so and turned the event to protest ground to the annoyance of the governor.
The situation caused delays and intermittent stops at the rally as policemen, led by the state`s Commander of the Rapid Response Squad, Mr Hakeem Odumosu battled hard to bring the protesters under control. Thousands of workers who had come for the rally watched as some of the protesters attempted to force themselves into the state box, where Fashola and other guests were sitting.
Academic Staff Union of Universities, ASUU, Chairman, LASU, Dr. Adekunle Idris accused Fashola openly of increasing the school fees of LASU and adopting anti-workers measures to retard the development of lecturers in the area of promotion.
"The problem is very clear, our members are protesting against the exorbitant school fees that is being charged at LASU, school fees that range from N197,000 to N350,000.  For first degree, we believe it is exorbitant, it is anti-people and against the citizens of this country and that is why we are protesting today amidst other things going on at LASU, such as premature retirement of our professors on the professorial cadre, such as the evil policy of the university administration of LASU that says that our people will not be promoted except when they create the vacancies and that is against the tenet of university worldwide.
"We are here to protest and there is no reason to celebrate, there is no cause to celebrate, are we celebrating our girls that have been kidnapped? We have a situation where people are not being paid the minimum wage and are asked to pay school fees between N197,000 and N350,000. We say no to this oppression, we say we have a social responsibility to the society to protect the interest of the people of this country," he lamented.
The Coordinator of the Joint Action Forum (JAF) said "there must be total reversal of the fees in LASU. If your government refused to do it, another government will do it. If you want education for the rich, go and create your own university," he told Fashola in the face.
He added that "the school was created as public university, adequate funding of education is not negotiable, LASU cannot be run like a secondary school, the right of workers to promotion is not negotiable, the rights of students to independent unionism is not negotiable. You can see what our country has become, today, no security, they can take away our 200 girls and yet the government is irresponsible. All Lagos workers, don't allow anybody to intimidate you."
Responding to the protesters, Fashola said "we have heard protest about wages and school fees, what people who came here did not tell you, is that I have met twice with those who wear the shoes, the students and we have agreed that we will find a middle ground. I can confirm to you now from our last meeting, I told them the reasons and the circumstances in which we took the decision that we took. There seem to be a better understanding of the choices that we have to make.
"And I challenged, that this is a matter that also affects your life, I am giving you an opportunity as your governor to go and make a proposal to me as to what you have done if the choice was yours.  I can now confirm to you that yesterday I received their letters, setting out their own version."
"Ofcourse, I have to go back to my Executive Council to review the proposals they brought forward and to communicate our own position to them, so I don't if those who came here are students and I don't know if they are representatives of the students.  If you talk to card carrying students of LASU, they will tell you they have met with me, the first meeting lasted 45 minutes and the second meeting lasted for about two hours, so we are talking," he added.
Short URL: https://www.africanexaminer.com/?p=10649