May Day: Pensioners Urge Plateau Govt to Pay 31 Months Gratuity
Agabus Pwanagba, Featured, Latest News, News From The State
Thursday, May 1st, 2014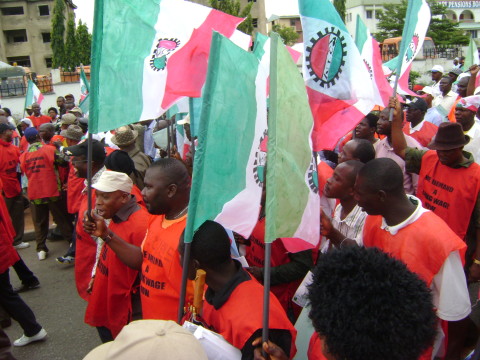 Agabus Pwanagba, Jos
As workers in Plateau State join their counterparts all over the country to celebrate workers day, the National Union of Local Government Education Authority Retirees Plateau State Chapter, has appealed to the state government to pay their  31 months outstanding pension and gratuity.
The Union members made their plight known while carrying placards during the workers day match past held at the Rwang Pam in Jos on Thursday.
Some of the placards read: "Safe Our Souls, No Pension, No Gratuity. Baba Do Something. "Is Retirement a Curse". "Baba Jang are you Aware of Our Suffering".
However, in his address The State's Chairman of Nigeria Labour Congress, Comrade Jibrin Bancir, appealed to the State Government to pay the four months salary its owing Local Government workers and primary school teachers in the State.
"Two years after Labour and Government had signed an agreement in the office of the Hon. Minister of Labour and Productivity in Abuja on the payment of unpaid four months salaries and full implementation of minimum wage to Local Government workers and Primary School teachers, Government has remained adamant and is still pursuing its case of 'No Work, No Pay' to the detriment of workers.
Comrade Bancir lamented that workers in the public service of Plateau State have been denied promotion for for eight years.
"We have lost our seniority and financial benefits when compared to our counterparts in other states. This has caused a lot of dissatisfaction and loss of morale within the service. He further said.
The Union demands that promotion of workers be released immediately and financial benefits paid from effective date of promotion. Saying "Nothing less can be accepted by Labour in the State.
Bancir further decried the none payment of arrears of the mininum wage, "In 2011 when we signed the minimum wage, Government had agreed to pay arrears, three years after, nothing seems to be in the pipe line. We are therefore calling on Government to revisit this issue urgently and pay workers what rightly belongs to them.
The NLC Chairman advised workers to be involve in the process of ensuring that the right leaders are put in place come 2015.
"Don't just sit on the fence and expect that leaders will emerge from the blues. All of us be involved.
In his address Governor Jonah Jang, who was represented by the Head of Service in the State, Mr. Ezekiel Dalyop, said government is aware of the challenges of workers and assured that it will make sure it carter for all their demands for the end of its tenure.
Meanwhile, an attempt by workers to lynch the Chairman of Shendam LGA of the State was brought under control, after he was smuggled out of the stadium by security agents, our correspondent in Jos reports.
Short URL: https://www.africanexaminer.com/?p=10640