Medical Doctor In Police Net Over Alleged Child Trafficking In Anambra
Latest News, News, News From The State
Thursday, May 29th, 2014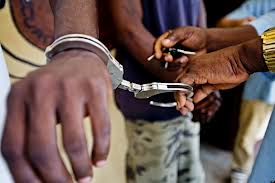 IGNATIUS OKPARA, Onitsha
The medical Director of Nkemefuna Hospital and Maternity, Umunachi in Dunukofia local government area of Anambra state, Dr. Ikebuilo has been arrested by the police over alleged involvement in child trafficking.
Dr. Ikebuilo, who hails from Ogidi, in Idemili North Local Government Area of the State is presently undergoing interrogation in the office of the Special Anti-Robbery Squad, SARS in the state.
African Examiner gathered that the medical doctor's problem started an argument with his wife (names withheld) which made the woman to allegedly take the social mothers, including children haboured in their hospital to their biological parents without the consent of the husband.
Reports show that the police had already started beaming their searchlight on the hospital, following tip- off before the woman's actin.
Our correspondent also reliably gathered that the Special Anti-Robbery Squad, SARS in the state had apprehended the wife of the medical doctor and recovered a baby from her, following the information.
After her arrest, she allegedly made some confessional statement over her husband's regular involvement in the unholy act, such as  keeping social mothers, child theft and trafficking.
"The wife of the notorious medical doctor known to be involved in modern day's slavery was arrested by our men when the people within her biological parent's home noticed her suspicious movement with some pregnant girls including some children", said a police source.
"The good spirited Nigerians alerted our office; she was arrested and was later released on bail unconditionally.
" This led to the resurfacing of her husband who had gone underground to avoid police arrest in another case of child theft reported against him"
Speaking from his detention cell at Ogidi Police Division wednsday, Dr. Ikebuilo confessed to the crime, accusing his wife of setting him up by taking the children in his hospital away after they had little issue.
"My brother,  it is my wife O!, she took away the children in our hospital away and ran to her father's compound just because we had squabble and see me languishing in police incarceration" he lamented.
"See, my body is finished, my man organ was nearly cut off, I was hanged upside down in SARS and I confessed all my sins against the innocent children I have exchanged with cash.
"I thought I was dead. I am alive today because of God's grace, please help me plead with the police for my release for I will no more be involved in such mess" Ikebuilo pleaded
Short URL: https://www.africanexaminer.com/?p=11907