Midnight Fire Consumes 27 Shops In Abia Market 
Latest News, News, News From The State
Monday, April 6th, 2015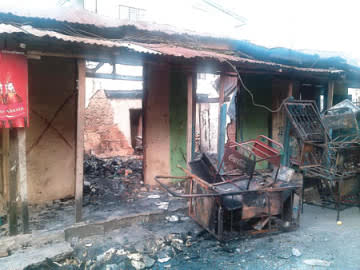 FROM IGNATIUS OKPARA, Umuahia – A mysterious midnight fire has consumed at least 27 shops, as well as assorted goods valued several millions of naira in an Umuahia market, in Abia state.
Sources say the inferno, which may have been caused by a power surge, began at about 11.30pm at the market located on Oba Street, off Club road, Umuahia, the Abia state capital.
According to a source who craved anonymity, the fire, which ravaged the market over the weekend, had raged for several hours, before shop owners came around to salvage some of their goods inside the shops.
As at Sunday evening, shop owners and youths of the area were still scavenging the rubbles of the affected shops.
Some of the shop owners who said they lost all their source of livelihood to the disaster, appealed to the state government to come to their assistance.
"When we got news of the fire, we rushed to see if we could salvage some of our goods. But when we got here, the fire was raging uncontrollably, making it too risky for anyone to attempt going near it, let alone salvaging goods.
Said one of the victims: "I lost all my goods to the fire. This is a small business I manage with my son, who was sacked from the state's civil service for being a non-indigene. Now that we have lost everything, we don't know where to start from."
Reacting to the incident, Abia state Controller of Fire Service, Mr. Victor Gbaruko, said the shop owners did not call the fire service, adding that rather, it was policemen that alerted them.
According to him, "It is not true that the traders called the fire service.
"The truth of the matter is that policemen drove down to our station to alert us, when we got there, the policemen deserted us and the people prevented our men from doing their jobs.
"When our men called on the policemen to help us gain access to the scene, it resulted in a confrontation between our men and the police.
"That was the end of the firefighting. Anybody who told you that they called us is lying because most of them don't even know our phone numbers." he stated.
Short URL: https://www.africanexaminer.com/?p=23084