Mishaviation Ghana Bags Aviation Training Excellence Award
Business
Wednesday, May 28th, 2014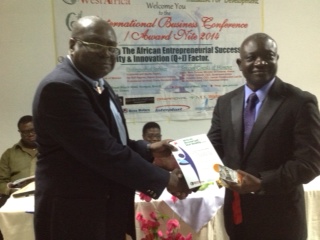 Kayode Adelowokan
The Chief Executive Officer of Mish Aviation Flying School, Ghana, Captain Ibrahim Mshelia, has said that training professional aviators is a passion borne out of balancing the scales between African and European professionals as well as tackling the acute dearth of manpower in the airline industry.
He made this known at the African Royal Beach Hotel, Ghana at the 6th International Business Conference with theme: Achieving the Africa Entrepreneurial Success organised by Aspire Africa where he bagged the Aviation Training Excellence in Africa award and a medallion for Outstanding Leadership Qualities.
Captain Mshelia who was represented by the Director of Special Duties, Mish Aviation, Mr Sam Winful, said that it is a joy and passion to see Africans rise to the challenge of flying the latest and best technology and the only way that can be achieved is through intense and concise training.
He said that already, the flying school has graduated over 30 pilots and is looking forward to graduate more as plans have commenced to increase the in-house capacity of trainee candidates to 40 this 2014 and 60 students by 2020.
"Training has been a passion of mine and it is my goal, now our goal at Mish to actually give back to the industry that nurtured us by grooming and training the next generation of pilots as well as aviation administrators in the region."
On the award, Captain Mshelia said it was welcome and apt for the flying school and would go a long way in encouraging the staff to continuously do their utmost.
"Well, let me express gratitude on behalf of my staff and crew as being singled out to be honoured is an indication that the flying school was making significant progress and one that we intend to sustain in the coming years."
"The award also shows that someone somewhere takes note of everything you do, no matter how little. Aviation is our life at Mish; we live it through our commitment and high level of professionalism, so once again thank you for this recognition, he said.
Short URL: https://www.africanexaminer.com/?p=11867